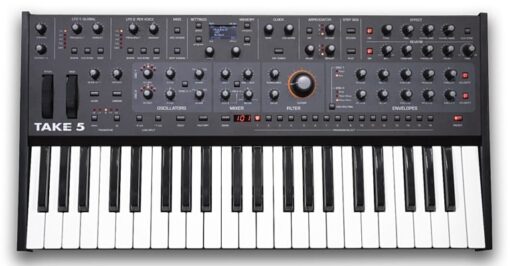 UPDATE: Dave Smith has now confirmed that it is real.
The new keyboard is on the way from Dave Smith, the Sequential Take 5 synthesizer.
Previously leaked by a Belgian retailer Sequential has confirmed the existence of a new analogue synth, the Take 5. This the company's first new synth since it was acquired by Focusrite in April 2021.
Could the Sequential Take 5 synth give you the Prophet-5 sound in a compact and more affordable keyboard?
"The Take 5 puts the classic Sequential sound and legacy into the hands of people who may not have been able to experience it before," said Dave Smith, Sequential founder and lead product designer.
"Packing this much performance power into such a small footprint was the kind of challenge we love. Throughout development we were amazed by how huge this synth sounds and how crazy versatile it is. It was a joy to work on and I'm looking forward to hearing what our customers create with it."
Possibly not designed exclusively for those who wish to play the Dave Brubeck classic, this is a five-voice polyphonic instrument with two analogue oscillators per voice and a continuously variable waveshape per oscillator. As such, its architecture appears to be similar to that of Sequential's Prophet-5 Rev 4, which was released in 2020.
Other features include a sub-oscillator, hard sync and front-panel FM, while a Mixer enables you to set the levels of the oscillators and the amount of white noise.
The four-pole low-pass filter, meanwhile, is said to be based on the design of the one in the Prophet-5 Rev 4. This can be made to self-oscillate using the Resonance control.
Modulation features include two five-stage envelope generators with variable routing, with velocity modulation of each envelope amount. The envelopes promise to be freely assignable to multiple modulation destinations. The same can be said of the LFO, which offers five waveshapes and internal or external MIDI clock sync.
A digital effects section gives you dedicated reverb and overdrive along with a multi-effect that delivers stereo delay, BBD delay, tape delay, chorus, flanger, phaser, ring mod, vintage rotating speaker, distortion and a high-pass filter.
In addition, a Vintage knob is included – another feature of the new Prophet-5 – so that you can recreate the tiny oscillator, filter and envelope fluctuations that are typical in classic synth hardware.
On the control front, there is a full-size, semi-weighted and aftertouch-capable 3.5-octave Fatar keyboard, pitch and mod wheels, a keyboard split mode and both portamento and unison (monophonic) options.
A step sequencer and arpeggiator are on the agenda, too, while you can expect 128 factory presets and space for 128 of your own.
Features:
OSCILLATORS
Two analog VCOs per voice
Continuously variable wave shape (sine, sawtooth, variable-width pulse) per oscillator
Hard sync: oscillator 1 syncs to oscillator 2
Square wave sub-octave generator (oscillator 1) per voice
Keyboard tracking on/off for each oscillator
Front-panel FM (frequency modulation)
MIXER
Oscillator 1 amount
Oscillator 1 sub-octave amount
Oscillator 2 amount
White noise amount
LOW-PASS FILTER
Four-pole, resonant, analog low-pass filter per voice, based on Prophet 5 Rev 4 design
Filter can be driven into self-oscillation with the Resonance control
Bi-polar filter envelope amount
ENVELOPES
Two 5-stage envelope generators (ADSR + delay) with variable routing (filter, amplifier, gate)
Velocity modulation of each envelope amount
Envelopes freely assignable to multiple modulation destinations
LOW FREQUENCY OSCILLATOR
Five wave shapes: triangle, sawtooth, reverse sawtooth, square, and random (sample and hold)
Clock sync (internal or external MIDI clock)
Freely assignable to multiple modulation destinations
DIGITAL EFFECTS
One dedicated reverb with damping, pre-delay, decay and tone
One multi-effect with stereo delay, BBD delay, tape delay, chorus, flanger, phaser, ring mod, vintage rotating speaker, distortion, high-pass filter
Dedicated Overdrive effect
VINTAGE KNOB
Recreates the characteristics of vintage synthesizers by introducing micro-fluctuations in oscillators, filter, and envelopes per voice.
AFTERTOUCH
Source: channel (mono) aftertouch with bi-polar amount
Aftertouch freely assignable to multiple modulation destinations
CLOCK
Master clock with tap tempo
BPM control and display
MIDI clock sync
ARPEGGIATOR
Up, down, up+down, random, assign modes
Syncs to MIDI clock
Re-latching arpeggiation
SEQUENCER
Polyphonic step sequencer with up to 64 steps with ties and rests
PERFORMANCE CONTROLS
Full-sized, semi-weighted, 3.5-octave premium Fatar keyboard with velocity and aftertouch
Spring-loaded pitch wheel with selectable range per program with independently adjustable upper and lower pitch wheel range transpose controls
Low-split mode creates two independent performance zones with different octave ranges
Hold switch latches held notes on
Polyphonic glide (portamento)
Unison (monophonic) mode with configurable voice count, from one to all five voices, and key modes
Factory switch: when off, the front panel is live; what you see is what you hear
PATCH MEMORY
IN/OUT
1 MIDI In, 1 MIDI Out, and 1 MIDI Thru port
USB port for bidirectional MIDI communication
1 Sustain/footswitch input
1 Expression pedal input
Main stereo output (2 x 1/4″ phone jack)
Headphone out (stereo 1/4″ phone jack)
The Sequential Take 5 is available now priced at $1,299. Find out more on the Sequential website.
Go Paperless with Edraw OffersUp to 60% off creativity products
Das Keyboard 6 Professional - Begin to enjoy your modern workday.
Jazz Up Your Valentine's Day With Filmora
Filmora 12
Edit Anywhere,in Every Way.
New Year's Eve Party
Sam Ash Holiday Deals
AmpliTube 5 MAX $/€99.99 deal
MAX Madness - up to 83% off MAX music software bundles
TONEX Pedal
Christmas Tree Video
---