Cre8audio and Pittsburgh Modular Synthesizers today introduced Function Junction.
Function Junction is a new multi-function module that is designed to do the things that other function generators do, but in a straightforward and understandable way.
What they say about it:
"Function Junction came about because one of our product managers was bothering our serious friends (we like them at least) at Pittsburgh Modular Synthesizers. They were complaining that many-function-in-one modules were confusing to use and were trying to accomplish too much, and therefore not really good any single function.
Oddly, the stoic folks at Pittsburgh Modular agreed with him (for once) and took this as a challenge. A few days later they came back with what would be the panel design for this module.
Function Junction combines classic analog modulation sources, ADSR envelope, function generator, and LFO. All are fed into an attenuverting mixer to create a complex modulation junction that can be used as 4 independent sections or in conjunction with each other.
The magic of the module is the ease you can flow from using its functions for basic everyday tasks to creating hyper-complex modulation. The sheer breadth of what you can do and the ease of doing it are pretty amazing (if we don't say so ourselves)."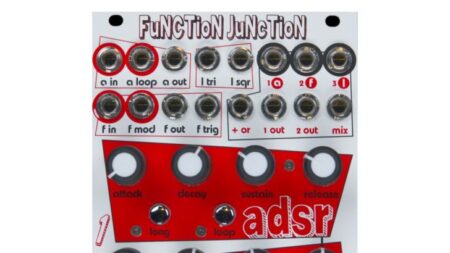 Features:
ADSR / Envelope

Fully analog Pittsburgh Modular Synthesizers developed 4 stage ADSR circuit with independent Attack, Decay, Sustain and Release controls.
"Loop" capability for envelope cycling. The SUSTAIN KNOB and RELEASE KNOB are used to adjust the time it takes to loop. Loop can be toggled on and off with button press or via gate
Function Generator

Function Generator can be used as an envelope generator, a voltage controlled LFO, a slew generator, a gate signal delay, envelope follower, a clock source, voltage controlled clock divider, complex modulation source, and more

Modulation input can be to attack, decay, or both.
Loop mode
Dual LFO
Triangle and Square LFO outs

3 channel attenuverting mixer with + OR circuit

Mixer can be split into 3 independent attenuverters, one two-channel mixer, and one attenuverter, or a three-channel mixer
When not being used as a mixer each channel is normaled to one of the other functions of the module, ADSR, Function Generator, and LFO enabling both an additional out put for each section as well as a dedicated attenuverter for each.

+ OR circuit outputs the current highest voltage value of any of the voltages output by the mixer
16hp Eurorack format module
Function Junction is available now with an estimated street price of $199.99 / €199.99 from Cre8audio.com and Cre8audio dealers worldwide.
---