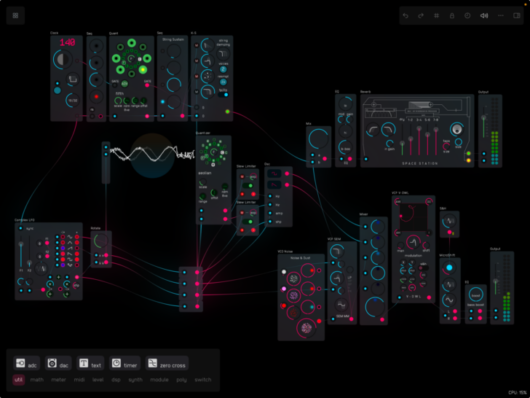 Audulus LLC developer Taylor Holliday let us know that Audulus 4.3 is now available for iPadOS and macOS, delivering performance gains up to 400%, 36 new or updated modules, and more.
What's new in Audulus 4.3:
Enhanced Performance through Multi-Core Audio Processing – The highlight of Audulus 4.3 is the implementation of multi-core audio processing, resulting in a 2x to 4x performance boost for most patches. "It took new OS features, and a bit of computer science to make this happen," notes Holliday. "These days, CPU performance is mostly improving through more cores instead of faster individual cores, so as new chips come along, you can do more and more with Audulus."
Updated and Expanded Module Library – Audulus 4.3 includes an updated module library, with 20 updated modules and 16 new modules. New modules include Super Saw oscillator, SVF Multimode Filters, Multi-channel Waveform Meter, and Spectrum Analyzer, among others. "Audulus 4 blew the door open with scripting for DSP and vector graphics. We're just getting started," said Jerry Smith, Audulus Sound Designer. "The module library is a super fun playground for modular synthesis and sound design."
A More Inclusive Free Version, and a powerful "Audulus Pro" – With this release, Audulus opens up more features in its free version, providing users with access to the expanded module library and the ability to construct entire modular synths free of charge. The full feature set, "Audulus Pro," including the option to build custom modules, is now offered through a subscription model. "Audulus Pro is a user-friendly development environment for synths and effects, with programmable DSP and graphics," said Holliday. "You can build your dream synth without delving into C++ programming."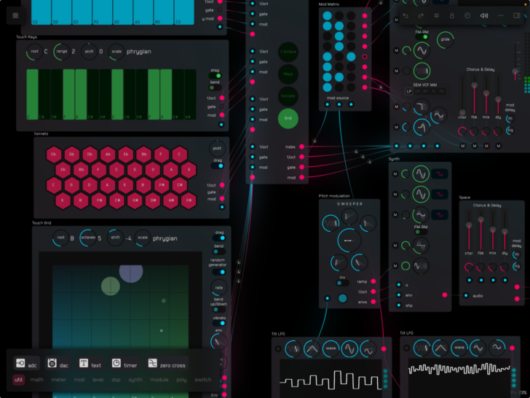 Audulus 4.3 is available now for free on iPadOS and macOS. Audulus Pro is available for $4.99 monthly or $29.99 annually, with a 7-day free trial.