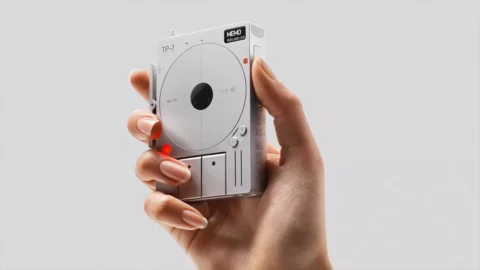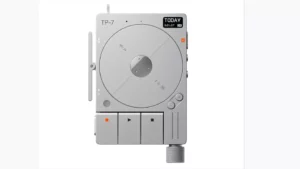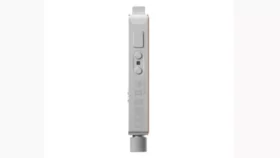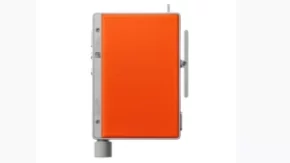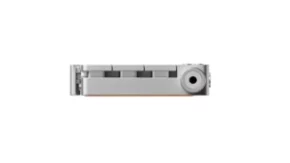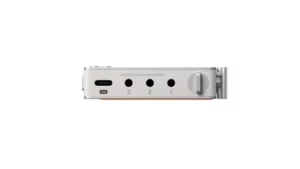 Teenage Engineering TP-7 is a beautiful portable recorder that is designed "to do one thing and do it well"
At Superbooth 2023, Teenage Engineering has introduced the TP–7 field recorder.
The TP–7 field recorder is a dedicated recording device, with a 7-hr rechargeable battery and 128 GB of internal storage. They say that it is "built to record sound, music, interviews and important ideas with zero friction in the highest possible quality."
Tape-style device promises a "rewarding man-machine experience" thanks to the "intuitive muscle reflex control"
It's designed for single-handed control. At the center of TP–7 is the motorized 'tape reel', used to navigate menus, scrub, pause, and provide visual feedback of playback. The rocker on the left side lets you scrub through your audio. The mode button is placed below, while the other side is home to the memo and navigation buttons.
The TP-7 encourages you to use your index finger to trigger the fast-forward control and your middle finger to rewind. Your thumb starts a recording, and your 'pinky' selects the mode. Teenage Engineering calls this 'intuitive muscle reflex control' and believes that it creates "a genuinely rewarding man-machine experience."
The TP-7 is designed for recording anything you like – podcasts, voice memos, musical ideas, live performances – but there are features that make it particularly suitable for capturing interviews. Also available upon release is the TP–7 transcription app for instant voice-to-text. Connect via BLE or USB, and import your audio for instant transcriptions. The software uses Whisper, an open source AI tool – potentially a great timesaver if you do a lot of manual transcribing – and during recording, placing a finger on the reel will pause the recording so you can talk 'off the record'.
You can record with the built-in microphone, or use any of the three stereo two-way jacks to connect external mics, headphones, studio monitors, or any other audio equipment. Connect via USB-C to use TP–7 as a multi-channel audio interface, midi controller, or for data transfer and charging. Wireless connectivity options include MFi and BLE. A 6.35 mm to 3.5 mm jack adapter is also included.
The TP-7 can be used alongside the other products in TE's field range – the OP-1 synth, TX-6 mixer and CM-15  microphone.
Features:
3 TRRS stereo input/output mini jacks
1 main/headphones output
24-bit/96 kHz USB audio interface
Internal mic and speaker
7-hr rechargeable battery
128 GB of internal storage
TP–7 transcription app available for iOS
Dimensions: 96 mm x 68 mm x 16 mm
Weight: 170 g / 5.6 oz
The TP-7 is available for pre-order for $1,499, with shipping expected this summer.
---