Teenage Engineering has announced the release of the TX-6 ultra-portable pro-mixer. A 6-channel stereo mixer with built-in EQ, compressor and digital effects, the mixer can also be used as a multi-functional USB audio interface.
Other features include instrument tuner and built-in sound generator that utilises four waveforms and four drum sounds. The mixer is powered by a rechargeable battery, so it should be useful as an on-the-go mixing solution for live performance or outdoor music-making. In addition, TX-6 is also equipped with MFi and BLE, so it will be quick and easy to connect with other portable devices.
Armed with eight built-in effects, the TX-6 offers reverb, chorus, delay, freeze, tape, filter and distortion. Each of its six channels has its own three-band EQ and adjustable compressor. The mixer can also be flipped on its side and used in what TE calls "DJ mode", where channel 1 becomes a fader that crossfades between channels 5 and 6.
The TX-6 is said to be the first release in a series of products called "field system", which Teenage Engineering say are "designed with portability, compatibility and durability in mind" and "driven by a desire to rethink the way we approach music making". According to their press release, more devices and accessories in this vein are on the way.
Features:
The first portable pro-mixer that can be used as a multi-functional 32-bit 48kHz audio interface that has an instrument tuner, built-in digital fx, synthesizer and drum machine.
TX–6 features a 6 channel stereo mixer with a configurable knob layout. choose to have the three-band eq at your fingertips, or customize each knob to control whichever setting you prefer.
Battery powered – the rechargeable battery holds for about 8 hours.
Synthesizer & sequencer – TX–6 also functions as a portable synthesizer and sequencer, with 4 oscillator waveforms and 4 synthesized drum sounds.
8 built-in effects, including reverb, chorus and delay, and creative effects freeze, tape, filter, and distortion. Each channel has a three-band EQ and adjustable compressor.
Sturdy build – encased in CNC aluminum with 2k molding, custom-made encoders and faders, and custom pcb – engineered for portability.
Wireless connectivity – with BLE, you can use TX–6 as a wireless controller for other BLE midi devices or trigger and sync the internal synth and sequencer from other sources.
Slimline cables – the narrow profile allows you to use all 6 channels at once and makes for an easy pack down.
Customizable interface – use TX–6 as a 12 channel audio interface and connect to any DAW over USB-C. MFi also allows you to connect to iOS devices.
DJ mode – turn TX–6 on its side and use it as a DJ mixer. Turn channel 1 into a fader to crossfade between the channel 5 and 6 so you can fade or cut between the two.
6.35+ 3.5 mm output – connect your audio output through 3.5 mm mini jack or use the included and removable 6.35 mm jack to 3.5 mm mini jack adapter.
Field bags – designed to fit TX–6 field mixer and constructed in heavy duty fabric and hardware.
Teenage Engineering TX–6 Screens: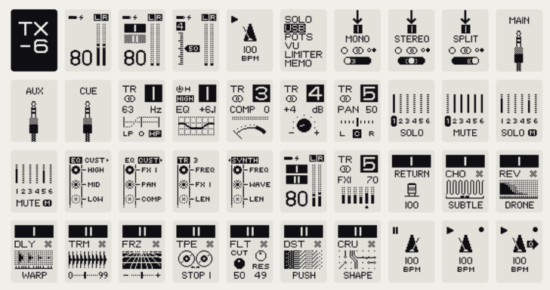 The Teenage Engineering TX–6 is available now for $1,199.
---