Yamaha Genos2 Arranger Workstation is designed to "transform solo players into the ultimate cover band" and comes with an AI chord mode, drum ambience control and realtime adjustment of the style dynamics. Throw in AWM/FM sounds and a mic input and the stage is set for strong performance.
Perhaps, arranger keyboards are often seen as 'fun' instruments, but for Yamaha, they are serious business. In fact, Yamaha's new Genos2 costs a whopping $5,699.99, and contains what the company calls "the highest cutting-edge technology".
The aim of the Genos2 is as simple as it is ambitious: to make solo players sound like a complete covers band. To help them hit this target, the keyboard contains some significant new features – Real Ambient Drums, an AI Chord mode and Style Dynamics.

The Real Ambient Drums option means that you have instant control over your drums' sound. Regardless, whether you want a close-mic'd tone or one that gives the impression that your drums are being played in a huge room, you're covered. Just grab the Ambient/Dry slider and tweak to taste.
AI Chord mode will 'listen' to your playing and musically adjust the accompaniment to fit with what you are doing. This is said to make it feel more like you are playing with a real band, and for the audience, more like they're listening to one.
Further control over your accompaniment comes via the Style Dynamics feature. This enables you to adjust the energy and dynamics of a style using a slider that goes from Hard to Soft (or ff to pp, in music theory language).

The Genos2 is a 76-note keyboard and offers an abundance of realtime control, while a colour touch screen can be used to navigate the various features. Sounds come courtesy of Yamaha's AWM and FM engines – the same as the ones in the Montage M, we're guessing – and the genre library covers every style you could possibly imagine (and, inevitably, a few that you couldn't).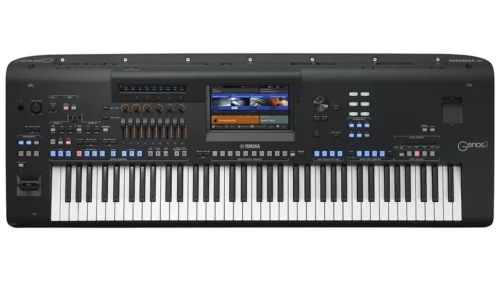 You can also plug in a mic and apply effects to the input – perfect for performers who both sing and play – and lyrics can be displayed on the Genos2's screen or a larger one via the HDMI output.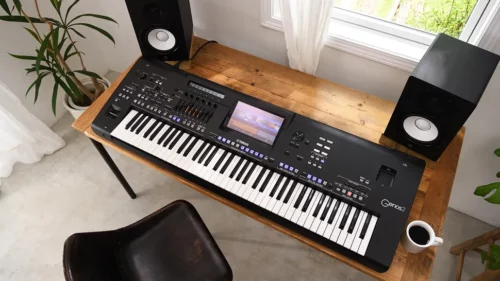 The Genos2 cost $5,699.99. and is available from today and you can find out more on the Yamaha website.
---