Euro maker William Mathewson Devices (WMD) let us know that their web store will be permanently closing on December 1st, 2022.
Earlier this year, WMD – a Denver-based manufacturer of modular synthesizers, effects pedals and musical instruments – announced that it would be closing at the end of 2022. At the time, they said that they were unable to reliably get the parts they need to be able to introduce and manufacturer the new synth modules needed to be profitable.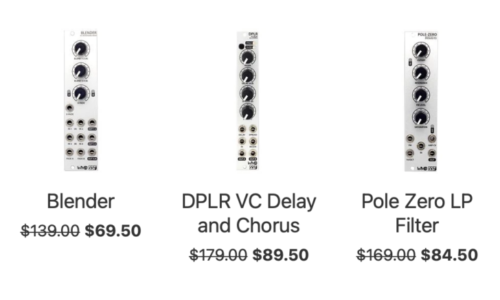 The details that they shared on the web store closing:
"In order for us to catch up with orders and get everything shipped before we move out of our building, the WMD webstore will be taking its last orders on November 30th, closing on December 1st.
WMD/SSF products have been moved to 50% off for new orders, while supplies last! Get some great gear at an incredible discount while you can.
Our 30% on most items sale is still happening as well, so be sure to take advantage of that before December!
We will likely be building and shipping stuff into next year, so please continue to have patience with us if you place any preorders. Place orders with out-of-stock items separately in order to get in-stock items more quickly.
Thank you for all of your messages, words of encouragement, and support during this time. We're so grateful to have such awesome customers and friends in this industry!
– Alex & WMD"
Editor's note: Kudos to William, Alex and the rest of WMD for handling this in a professional manner – giving the community ample warning on their plans to shut down and generously discounting products as they clear out their warehouse.
---