At Knobcon 2022, Modbap Modular debuted Trinity, a three-channel Digital drum Synth Array, and the fourth entry in its expanding Eurorack product lineup
"Trinity has evolved over time to become what it is today," says Modbap Modular owner Corry Banks. "I wanted a drum module that would allow me to have a simple-yet-smacking kick, snare, and hi-hat in one module. I also wanted to play outside of that simplicity with malleable percussion synthesis. Trinity had to have a degree of hands-on control, together with a good deal of CV and/or MIDI control. I get into sound design, too, so Trinity had to serve me well in that area, and it does not disappoint. Trinity is all of that, while finding a way to introduce a few interesting and fun quirks as well."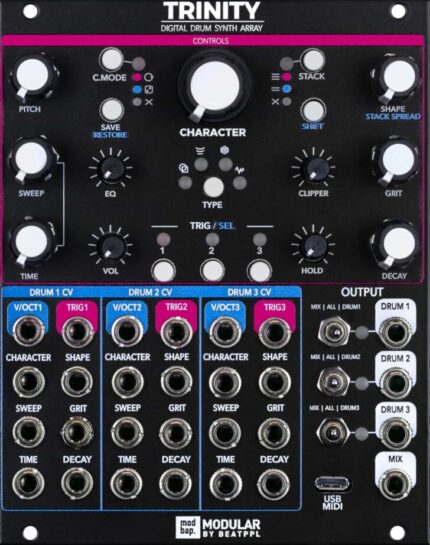 Trinity is a 3 channel Digital Drum Synth Array, packed into a 20hp Eurorack module.
The name Trinity refers to the 3 drum channels and tips its hat to the core elements of modern beat driven composition, which are typically Kick, Snare and Hat. Trinity takes this idea and expands on it with an array of drum synth algorithms (Analog Inspired, Additive, FM & Noise). This allows for a wide range of drum design capability that go far beyond the conventional kick, snare and hat.
Trinity's array of digital drum synth algorithms are very malleable, by way of the 7 knobs and 4 mini-pots, each of which control a specific parameter and characteristic (Pitch, Sweep, Time, Shape, Grit, Decay, EQ, Clipper, Hold, Volume and Character) for each drum type. Each drum channel has its own trigger and v/oct in addition to extensive CV input options per channel.
Trinity's switchable output matrix allows for the routing of each drum channel's output to the mix output, the individual drum channel output or both.
Lastly, Trinity's midi over USB connection allows for MIDI control over various parameters via one USB cable.
Expected to ship in mid-October 2022, Trinity is available to preorder at an MSRP (Manufacturer's Suggested Retail Price) of $549.00.
---