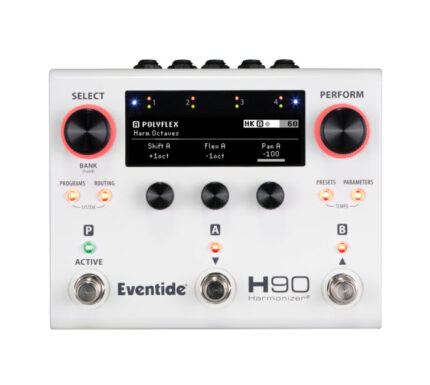 At The 2023 NAMM Show this week, Eventide Audio debuts the H90 Effects Pedal (its next-generation Harmonizer) and its innovative instrument/sequencer, Misha.

First announced in November last year, the H90 Harmonizer is Eventide's follow-up to the H9 Max Harmonizer. The H90 is loaded with over 60 effect algorithms and hundreds of program combinations, curated for a variety of instruments and genres. The pedal's multi-core architecture gives the H90 the power to run two powerful algorithms at once. Its features include flexible routing options, an intuitive UI designed for players and a built-in tuner.
Being introduced for the first time is the H90's newest algorithm, PolyFlex, a polyphonic pitch shifter that allows users to bend a chord into a new harmony, perform "polyphonic dive bombs," or transform a guitar into a pedal steel. With PolyFlex, the H90 now has 63 algorithms, including 11 new ones alongside the H9 Max's 52 algorithms.

Eventide's Misha (pictured, right) is an innovative Eurorack instrument/sequencer that utilizes a unique, interval-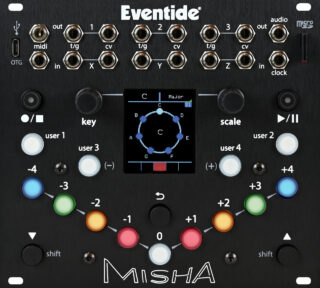 based approach to playing and creating melodies. Misha, being shown at NAMM for the first time, is designed to be played like a keyboard instrument and yet it makes music in a way unlike any other instrument.
Eventide's novel Misha instrument/sequencer will be demonstrated at NAMM by two friends-of-Eventide: MIDI guru Steve De Furia and sound designer Richard Devine. Since its release last summer, dozens of artists have discovered, for the first time, what it's like to "play" music easily and simply.
A Misha software release is also available now as a public beta. It includes a requested feature or two as well as fixes.
The Eventide H90 Pedal will be available later this spring, and retails for $899. The Misha eurorack module is available now, and retails for $599. For more information, and to find local Eventide retail outlets, visit the Eventide website.

---