Eventide reveals the H90 multi-fx pedal with 62 effects including new algorithms.
Eventide Audio has introduced the H90 Harmonizer, described as their "next-generation multi-effects pedal".
Eventide has been an innovator to studio quality guitar effects, and after a number of standalone pedals for its iconic algorithms players can enjoy the best it has to offer with 62 effects on the H90 multi-effects pedal.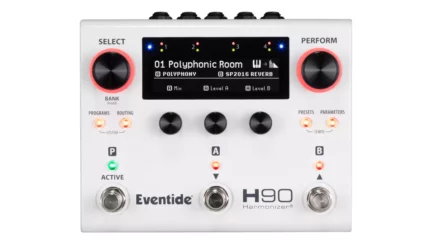 H90 is the latest offspring of the studio classic H9000 Harmonizer and follow-up to the H9. Building on the foundation of the H9 but features seven new algorithms, as well the ability to use two algorithms simultaneously for huge potential tonal craziness. The H90 features include comprehensive I/O, flexible routing options, an intuitive UI, and a built-in tuner.
"The H90 is the culmination of years of creative input from the team at Eventide as well as our inspiring users. We're excited about the music (and cool new DSP math!) made possible with this next level of DSP power, and even more excited to hear the music our customers will make," says Eventide's Russell Wedelich, VP of Development and Director of Signal Processing.
Along with the iconic reverbs, delays, modulation, and pitch shifting effects of the H9 Max, the H90 offers 10 new algorithms including state-of-the-art, fast-tracking, and warble-free Polyphonic Pitch Shifting, using Eventide's proprietary SIFT (Spectral Instantaneous Frequency Tracking) technology.
The 7 new algorithms
Polyphon: Pitch shift chords with ease using SIFT technology. Create rising or sinking chorusand crystals-type effects. UseFreeze to generate pad textures.
Prism Shift: Generate three voices from a single chord whose intervals are separated,staggered, and pitch-shifted to create four arpeggio types spanning up to three octaves.
Even-Vibe: Authentic Uni-Vibe emulation reimagined in stereo with envelope followers.
Head Space: ,Vintage four-head Tape Delay with classic and modern creative tone shapingcontrols for grit, spatiality, and character
Bouquet Delay: Bucket Brigade Delay (BBD) with modulation, LoFi, and Modern flavors; includes Pitch jump and Self-oscillation performance functions.
Wormhole: A mega-sized hyper-modulated reverb with pitch warping performance.
Weedwacker: Two-stage, serial overdrive reminiscent of a famous green pedal.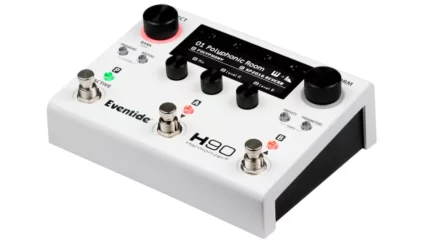 In addition, there's also the debut of three Eventide rackmount processors on a pedal:
Instant Phaser: Authentic emulation of the world's first studio phaser from 1971 notably used in Led Zeppelin's Kashmir.
Instant Flanger: Authentic emulation of the world's first studio Flanger.
SP2016 Reverb: The legendary Room, Stereo Room, and Hi-density plate from the original studio rackmount.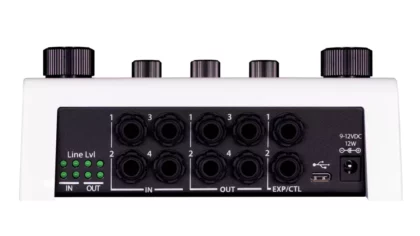 Existing algorithms have also been improved with features from their recent plugins and the dot9 series pedals, including the TriceraChorus, UltraTap, MicroPitch and Blackhole.
'Others have been enhanced to take advantage of the new advanced pitch-shifting,' says Eventide. The H90 Harmonizer's dual algorithm capabilities allows for 'true spillover' between programs, series or parallel effect routing.
A pair of mono inserts allow you to incorporate outboard effects or combine for one stereo insert. The H9's Dual Mode allows players to connect using the four-cable method or process two independent stereo instruments at the same time.
The H90 Harmonizer is available immediately MSRP of $899 from Eventide and authorized dealers worldwide. More info at Eventide website.
---