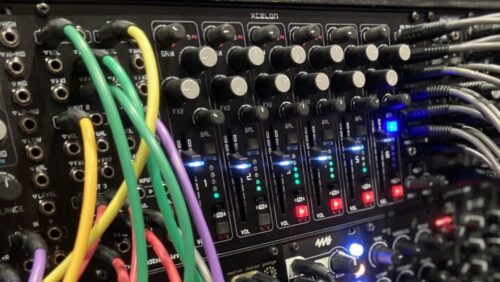 At Knobcon 2023, held September 8-10, 2023 at the Hyatt Regency Schaumburg, Chicago, Boredbrain Music introduced Xcelon, a voltage-controlled true stereo mixer for Eurorack modular synthesizers.
Xcelon offers a flexible Euro-format mixing option, that offers tons of hands-on control with the the ability to control your mix using control voltages. This means that you can use the mixer for your VCAs, you can sequence or modulation your pan position, and control the mixer in a lot of musically useful ways. And you also have immediate, tactile control over Mute, Volume, panning, effects and more.
It also offers two mix busses and FX send/return controls, so you can create complete mixes within your system, all under voltage control.
Each of the six channels can be used as a stereo channel or as dual-mono channels. In stereo mode, the balance/xfade knob lets you control panning of your signal. In dual-mono mode, it lets you crossfade levels between two signals, giving you flexible mixing control over up to 12 inputs.
Xcelon is also expandable, letting you add up to six additional stereo/dual-mono channels and direct outputs, so you can have the flexibility of recording performances mixed or unmixed.
The Boredbrain Xcelon joins a string of recent Eurorack mixer introductions, including the Noise Engineering Xer Mixa and the 1010music bluebox. They're all in a $700-1000 price range, but they take very different approaches, offering a wide range of options for mixing in Eurorack.
Features:
6 stereo/dual-mono channels, with 'ultra-low noise' analog circuitry
2 stereo FX send & returns, with FX1 selectable pre/post fader
Long-travel volume faders with LED indicators
Balance control with pan law for natural panning
Channel level meters, per-channel selectable pre/post fader
Expansion modules to add additional channels, pre/post direct outputs
26 patch points for CV control over volume, balance, FX sends & FX returns
2 output mix busses with A, B & A/B options and for FX returns
VCA-based clickless mutes
XFADE balance mode – dual-mono channel L&R input crossfader
Line-level amplification, with ample gain for a wide range of input signals
48 HP hands-on design, with 60 jacks, 48 LEDs, 32 knobs & 19 switches
Boredbrain says that the Xcelon mixer should be available later this fall. The official details on pricing and availability are to come at their website. We are expecting it to be priced around $800-850.
---