Behringer says that its tiny JT-4000, Roland JP-8000-inspired synth is ready for production and will cost $69.
The tiny JT-4000 is one of many Behringer synths that's been 'in development' for a while, but now the company tells us that it is finally ready for production.
A 4-voice paraphonic instrument inspired by the Roland JP-8000, this features two analogue oscillators per voice, an analogue filter, an arpeggiator and an OLED screen, but will pretty much fit in the palm of your hand.
Behringer advises that you shouldn't let the small size fool you, as this is "a full-blown synthesizer in a micro package". There's a built-in touch keyboard, but you'll more likely plug in your MIDI controller and use that.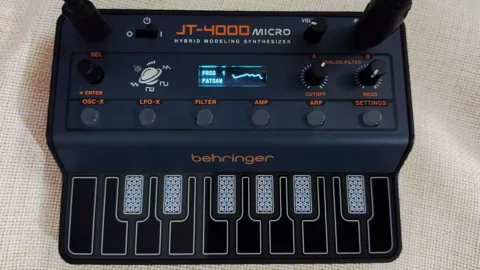 The JT-4000 was originally slated to cost $49, but a year on from its initial reveal the projected price has risen slightly to $69. That still makes it eminently affordable, though, and fans of the '90s synth that it emulates will doubtless be keen to hear how close it gets to the original.

It seems like several more long-teased Behringer synths could be arriving soon, as well. The company says on its Facebook page: "As chips become more available we're now warming up with lots product releases".
The JP-8000 was an analogue modelling synth that was released by Roland back in 1996. Known for its Supersaw waveform and hands-on interface, it was powered by an (at the time) new kind of modelling technology and promised to blend the best of analogue and digital.
---