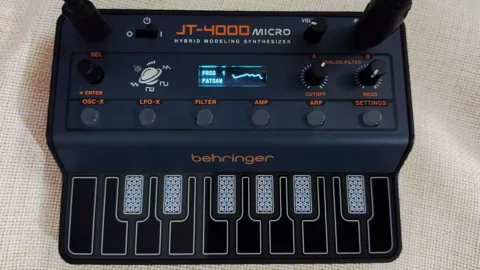 New Roland-inspired $49 mini synth is a sonic throwback
The Behringer JT-4000, originally introduced as the JP-4000, is a portable 4-voice hybrid paraphonic synthesizer. It features 2 analog modelling oscillators per voice, plus a shared analog filter. They say that the JT-4000 is modeled after the Roland JP-8000, which helped define the sound of trance music in the '90s.
Features:
Programmable 4-voice hybrid synthesizer with 2 analog modelling oscillators per voice
Analog filter
Reproduction of the JP-8k sound engine with Supersaw waveform
Additional 2-operator FM engine
Authentic 12-bit DAC for 'classic sound'
32 memory presets, expandable via SynthTribe app
16 touch-sensitive keys 'for great playability'
Arpeggiator with 3 patterns and hold function
Individual envelopes for filter and amplifier for creative sound shaping
2 powerful LFO's to control filter and oscillator tuning
6 function buttons and bright OLED display
USB Micro connector allows powering via smartphone, power bank or computer
USB/MIDI implementation (including NRPN/CC control of all parameters and bulk load/save)
Behringer says that the JT-4000 is ready for production, but production is waiting on availability of parts and they expect it to be priced at $49.
---