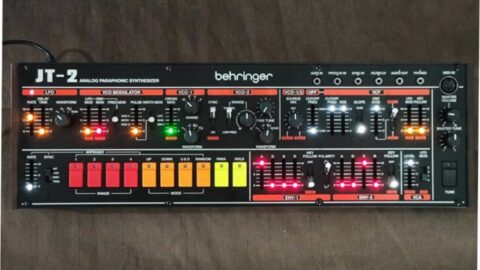 Behringer has shared a sneak preview of the JT-2 – a Eurorack-format monophonic synth voice, based on the voice of the Roland Jupiter-8.
You might think that Behringer would be keen to release one of its two already-announced takes on Roland Jupiter-8 before it started teasing another one, but no. Behringer is planning a Eurorack-compatible desktop synth inspired by Roland's Jupiter range.
It now transpires that, as well as a full-size clone and a mini version, the company is also working on a paraphonic, Eurorack-compatible desktop Jupiter synth using the same analogue oscillators and filters, plus automatic tuning and arpeggiator functions.
The styling is certainly in keeping with Roland's original synth. There are (from left to right) LFO, VCO modulator, VCO-1 and VCO-2 sections, followed by a VCO mix dial and filter section. The two envelopes and VCA are below.
The company has previously teased plans for two other synths based on the Jupiter-8: a knockoff or clone of the Jupiter-8 keyboard, and an inexpensive Volca-style synth module, the Saturn Soul Synthesizer. Neither product has so far been released.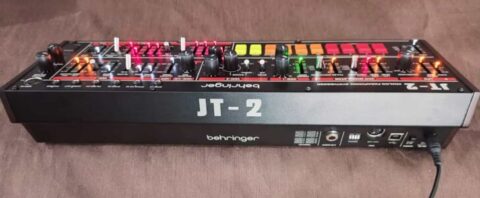 Whether the Eurorack model will beat them to market remains to be seen, but, given that it's just a prototype at this stage, we'd guess that it's unlikely.
Roland previously released its own mini Jupiter-8 – the JD-08 – as part of its Boutique range, though this used digital technology to model the analogue circuitry.
What they say about the Behringer JT-2:
"While we're currently working on a full key version of the Jupiter, here is a new prototype in a smaller and more affordable Eurorack package. It features an authentic Jupiter voice based on the same VCOs and VCFs, plus an autotune and arpeggiator function.
We believe we could make it for US$ 299."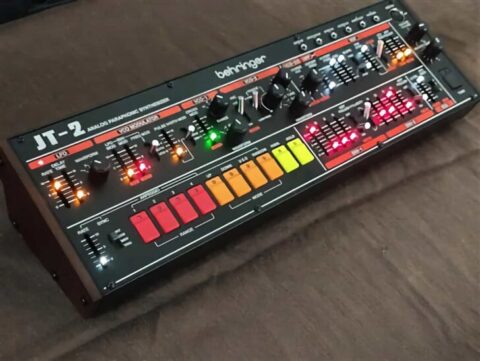 Availability is to be announced. Behringer has previously indicated that it is moving full steam ahead on designing new synths, but it will be unable to manufacture many of these designs until recent global supply chain issues for electronic components get resolved.
Would you be interested in a monophonic Jupiter-8 in Euro format? Share your thoughts in the comments!
---