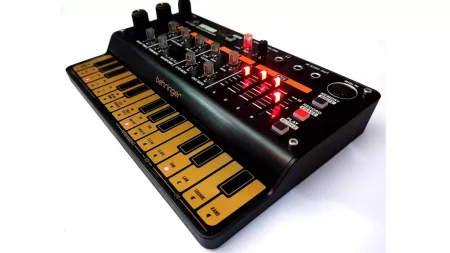 Behringer Saturn is like a $99 mini synth version of the Roland Jupiter-8.
Looks like it's very much mini synth trend over at Behringer at the moment – following the announcements of the Pro VS and JP-4000 last week, the company has now unveiled the Saturn, a trimmed-down take on Roland's classic Jupiter-8.
Authentic analogue circuitry at a bargain basement price?
We learnt last year that Behringer is working on a full-size Jupiter-8 clone – the Saturn promises the same "authentic circuitry" but in a smaller, more affordable polyphonic package. In fact, it is projected to cost just $99.
While the company describes the synth as an analog polyphonic synthesizer, many would categorize it as a paraphonic monosynth design, meaning that it's a single synth voice, with individually controllable oscillators.
Of course, some compromises have been made to hit this price point. The 27 keys are of the touch-sensitive variety, for example, though Behringer claims that they offer "great playability". If you can look beyond that, there's plenty to get excited about, including three oscillators, a multimode filter, an arpeggiator and a 16-step motion sequencer.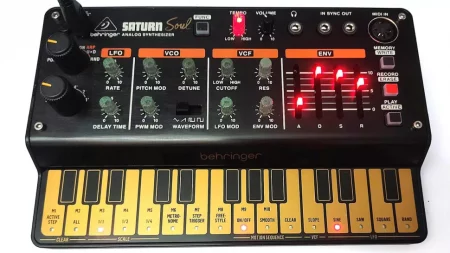 In addition, you can hook up a larger MIDI keyboard if you wish, and there's further I/O for syncing Saturn to other synths or drum machines. Power can come from your smartphone, power bank or computer.
Roland previously released its own mini Jupiter-8 – the JP-08 – as part of its Boutique range, though this used digital technology to model the analogue circuitry.
Features:
Analog synthesizer based on "the classic Jupiter synthesizer from the '80s"
27 touch-sensitive keys
Analog signal path
3 VCOs, with 4 selectable saw, triangle, square and pulse waveforms
Pulse width modulation
Multi-mode filter with resonance
Filter switchable between 2- and 4-poles for additional sound options
Play modes include poly, unison and arpeggiator
16-step motion sequencer with 8 memory slots and recording of knob movements
LFO with saw, triangle, square and random waves for vibrato, tremolo and wah-wah effects
Voltage Controller Amplifier with a dedicated ADSR envelope
Micro USB connector allows powering via smartphone, power bank or computer
Sync Input and Output to synchronize with other synthesizers or drum machines
Comprehensive MIDI implementation (including NRPN/CC control of all parameters and bulk load/save)
Behringer says Saturn Soul development is complete and that it will start shipping the Saturn once it has the necessary chips.
---