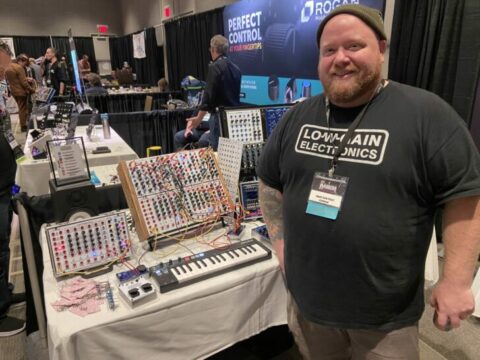 We caught up with Logan Erickson of Low-Gain Electronics, who introduced a variety of new gear at Knobcon 2023. The event held September 8-10, 2023 in the Chicago area.
Low-Gain highlights were a pair of 4U synth panels, Elements of Melody and Sequence of Events. The format is Serge-inspired, but the designs are Erickson's.

The Elements of Melody brings together a collection of modular functions "focused on voicing". This includes:
Tri-Core VCO
Tri-Core VCO
Triple Waveshaper
Dual Processor
'73 Filter
R7 Envelope Generator
Smooth Stepped Generator
Dual AM / RM
Pots & Pans
The Sequence of Events focuses on sequencing, routing and CV processing, and includes the following modular functions:
Gate Sequencer
Discrete Programmable Sequencer (4 stage)
Bi-Directional Router
Discrete Programmable Sequencer (4 stage)
Sequential Switch
Dual Slopes Compact

The two panels will be available built-to-order, with a 3-6 week lead time, and also as DIY projects.
Low-Gain was also showing several varieties of matrix mixers, including their Passive Matrix Mixer, which you could build at one of Knobcon's DIY workshops, and several larger mixers.
In the last few years, Erickson has built up a complete line of Low-Gain 4U modules, in addition to Euro-format and standalone mixers and utility modules. Details are available at the Low-Gain website.
---