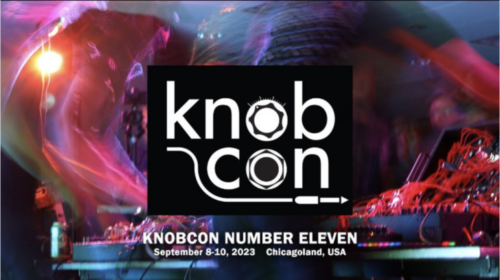 Organizers have announced the workshops and presentations being held at Knobcon 2023, happening Sept 8-10, 2023 in the Chicagoland area.
The presentations include:
The Basics of Synthesis – Marc Doty, "the undisputed king of YouTube synthesizer videos " provides as comprehensive a primer about synthesis which could be reasonably expected to fit in ninety minutes.
Tiny but Mighty Setups with Circuit Rhythm & Eurorack – Novation Product Specialist, Shanda Nunez aka Trovarsi, will demonstrate a creative approach to integrating Novation's groovebox Circuit Rhythm with Eurorack. By demonstrating how to sample loops and one shots from a small Eurorack system to create a sonic library, she will show how the Circuit Rhythm can be a powerful tool integrated in any small hybrid system for both studio and live performance.
Reverb – Jon Sonnenberg explains the concept of reverb in a different light, showing many examples of alternate ways to create reverb-type effects.
35 Seconds at Altamont – The first person to play a custom Moog modular synthesizer at a rock festival was not Keith Emerson, it was Knobcon 11 Guest of Honour Doug McKechnie, who will be featured in a live interview and AMA moderated by Suit & Tie Guy.
Why and How to play Buchla 200e Live – TamiX will show her live set approach in Buchla 200e, compare with eurorack, and discuss her modular live set techniques.
The Other Analog: The Rise and Fall of Photonic Synthesis – Perhaps the most fascinating forgotten era in the history of synthesis is the period of time where the photon was the shining hope for the authorship of sound. This technology presaged polysynths, samplers, and complex synthesis. Marc Doty takes you on a tour of the history, the technology, and the groundbreaking instruments that used light to make sound.
VAST: What's it All About? – Professional K2000 programmer Shane Etter answers the eternal question: What the hell was Kurzweil VAST and what could you actually do with it?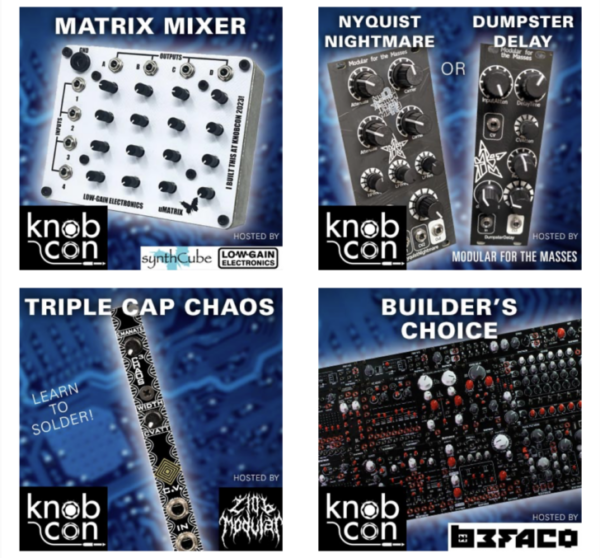 DIY Workshops
In addition to the presentations, there are 4 workshops scheduled between Saturday and Sunday, each around 2 hours.
Workshops have varying levels of difficulty and you are guaranteed to leave with a working module, with the helping guidance of the workshop hosts.
Find out more on the Knobon website for schedule details.
---