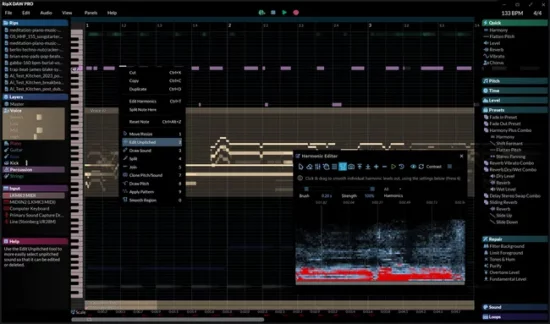 Hit'n'Mix says the new version of its RipX software is the world's "first AI DAW". It's latest evolution is geared towards those working with samples from AI music generators like Stable Audio and MusicLM.
Till now, Hit'n'Mix's RipX software has been advertised as an audio editor and stem separation tool packaged in three different versions. Today, Hit'n'Mix has scrapped its previous iterations and announced that RipX is to be relaunched as a fully-fledged DAW.
RipX DAW takes the advanced stem separation and audio editing capabilities of its predecessors and places these in what Hit'n'Mix is calling an "AI DAW" that it says is the "first of its kind to provide a truly holistic approach to cutting-edge AI music production processes".
What does this mean, exactly? Well, RipX's stem separation is powered by machine learning, but this is nothing new – that was also the case with the software's previous iterations, and other DAWs like FL Studio also offer AI-based stem separation. To justify the "AI DAW" tag, Hit'n'Mix are positioning RipX as a DAW that's uniquely prepared to assist those working with samples produced by AI music generators like Stable Audio and MusicLM.
This is thanks to RipX's nifty ability to treat audio and MIDI as the same thing, making it easier for them to edit and manipulate samples, including those generated by AI. Whereas DAWs like Logic and Ableton will delineate between audio and MIDI data, RipX converts both of these formats into the proprietary Rip Audio format using its advanced stem separation capabilities, letting you manipulate audio files in the same way you might edit MIDI parts.
Load in the audio file of a mixed track containing multiple instruments, for example, and this will be split into separate parts that can then be individually tweaked and edited on a note-by-note basis as if they were separate MIDI instruments. Individual timbres within mixed audio files can even be swapped out and replaced with new instruments or processed individually via RipX's built-in effects.
Where it was previously packaged in three tiers, DeepAudio, DeepRemix and DeepCreate, RipX will now be offered in two versions, RipX DAW a standard version price at $69 and a more full-featured version, RipX DAW PRO, price at $138 (Black Friday Sale 30% OFF till 7 December 2023).  PRO offers enhanced more advanced audio manipulation tools, a Harmonic Editor plugin and the ability to use the RipScript scripting language for building your own audio tools. Find out more about RipX DAW on Hit'n'Mix website.
RipX DAW new versions benefit from a host of additional workflow tweaks and new features listed in full below:
Computer Keyboard recording input
Step Time entry
Quick Panel for commonly used and favourite effects, plus Search box for effects and sounds
Chorus, Saturation and Flanger effects with improved Compression
Integrated AI Music Generator access
Improved sound replacement
Click layer for audible beat alignment
Highly functional note/percussion groups with snap-to original beat markers
One click effect and sound application
Automatic panel expanding to show currently applied effects
Automation lane selectors to show what effects and sounds are applied where and to what layers
Significantly faster ripping
PRO version: EQ Panel and DeEsser
Many recording and playback improvements, including automatic grouping of new recordings for easy editing and fast application of effects with automation
Sound, Loop and Rip Layer auditioning plus click and drag insertion
A multitude of user interface and editing tweaks for a more intuitive and smoother experience
---