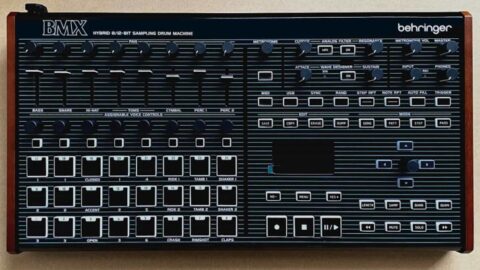 Behringer has shared teaser images for its upcoming BMX Hybrid 8/12-Bit Sampling Drum Machine.
What the company say about it:
"Today, we fired up the first version of our BMX prototype, an Hommage to the legendary Oberheim DMX.
Aside from the original sound samples, the BMX has also a built-in sampler, analog filters and much more. This is one cool sampling drum machine."

The Behringer BMX, like its LmDrum drum machine, isn't a straight knockoff or clone of the original.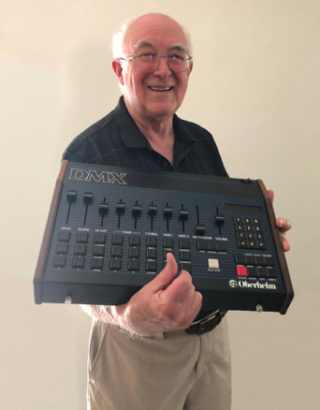 While it copies the look, layout and uses knockoff-style naming, the BMX adds sampling support, which promises to make the drum machine much more flexible.
Behringer BMX was originally announced in 2017, along with the company's take on the classic Roland TR-808 and TR-909 drum machines. At that point, it was called the 'OBX'.
Here are the specifications that they shared at that time:
Recreation of one of earliest and most influential digital drum machines
25 sounds: 3 Kicks, 3 Snares, 3 Hats, 6 Toms, 2 Rides, 2 Shakers, 2 Tambs, Rimshot, Handclap, Crash & Click
8 voice architecture with independent level & pitch controls for each voice
High-resolution real-time sequencer with non-destructive quantization for capturing finger drumming performances
Additional step sequencer mode with 64 steps per pattern with storage of up to 64 patterns and 16 songs
Integrated Wave Designer with individual attack and sustain controls for studio quality drum sound
Integrated dual-mode filter with dedicated frequency and resonance controls for huge sound shaping options
8 independent analog outputs to record your patterns as multi-track audio
Easily readable 7-segment 4-character LED display for tempo with dedicated tap tempo button
24 velocity sensitive pads with bold, full-color LEDs
Up to 99 loop measures of each pattern change with 16 pattern changes per song
Songs can be chained together for expanded compositions
Unique Auto Scroll feature for extremely easy operation
Comprehensive Midi In/Out/Thru and USB implementation for synchronization and connection to external devices
Per-track Solo and Mute for enhanced realtime control
Sync options include USB, MIDI, clock and internal
Powerful headphone and L/R main outputs on 1/4" TRS connectors
3-Year Warranty Program
These specifications do not make any mention of the audio input or sampling capability, so it's clear that the specs have evolved since Behringer's original announcement.
The company says that the images are of their first engineering prototype. Details on Behringer BMX pricing, availability and official specs are still to be announced.
---