Acon Digital is the latest company to offer an AI-powered real-time stem separation solution, via a plugin, Remix.
The ability to 'break apart' mixed audio files is something that producers have long requested, and there are now multiple tools that enable you to do it. Serato recently added similar feature to its Sample 2.0  plugin.
Remix enables you to extract five stems: vocals, piano, bass, drums and 'other' audio. You can adjust the volume of each of these within the plugin, and a sensitivity control enables you to tweak the balance between "elimination and spill". All parameters can be automated, and there are separate outputs for each stem so that you can process them individually.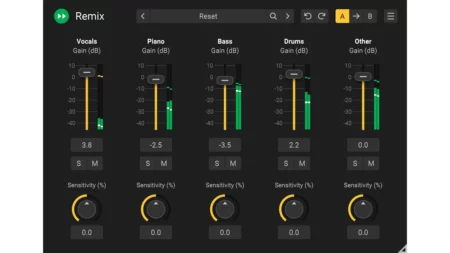 All of which sounds neat and tidy enough but, the real test will be how effective the stem separation is on the kind of material you like to work with. As of Remix, the technology was licensed by Acon Digital from Hance, a company that specialises in machine learning and digital signal processing.
Remix is available now for PC and Mac in VST/AU/AAX formats, and there's also a demo version. It costs $49.90 and you can find out more on the Acon Digital website.
Besides, based on current trends, it might not be too long before stem separation is included into your DAW, as it is already included in Serato Studio, and part of Tracktion Waveform Pro updated version 12.5 .
Apparently, that stem separation is on its way to FL Studio 21.2, which is currently in beta. A video is circulating in social media X that appears to show this in action – watch the video below:
so FL Studio 21.2 will have stem separation built in?

GAME OVER pic.twitter.com/fFcGGSPzby

— WIZE (@wizetheproducer) September 4, 2023
---