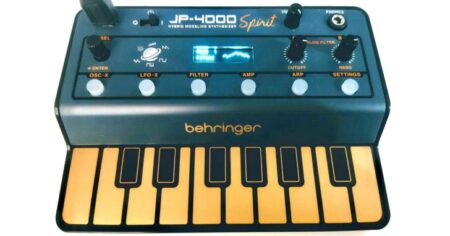 Behringer channels Roland JP-8000 in its new $49 Behringer JP-4000 hardware synthesizer, a synth that even kids can afford.
The JP-4000 is a 4-voice hybrid paraphonic instrument with two analogue modelling oscillators per voice, a 2-operator FM engine, an analogue filter, two LFOs, an arpeggiator and an OLED display.
The name calls to mind Roland JP-8000 – an 8-voice analogue modelling synth that was released in 1996 – and the JP-4000 promises to recreate the sound engine from that instrument, complete with the famous Supersaw waveform.
In addition, you can power the JP-4000 from your phone or another USB source, and 16 touch-sensitive keys enable it to be played without a controller. That said, you can easily hook up a MIDI keyboard should you so wish.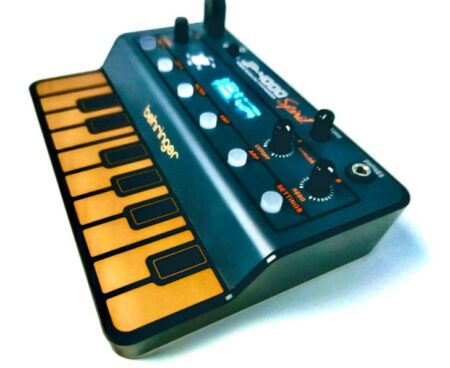 Features:
Programmable 4-voice hybrid synthesizer with 2 analog modelling oscillators per voice
Analog filter
Reproduction of the JP-8k sound engine with Supersaw waveform
Additional 2-operator FM engine
Authentic 12-bit DAC for 'classic sound'
32 memory presets, expandable via SynthTribe app
16 touch-sensitive keys 'for great playability'
Arpeggiator with 3 patterns and hold function
Individual envelopes for filter and amplifier for creative sound shaping
2 powerful LFO's to control filter and oscillator tuning
6 function buttons and bright OLED display
USB Micro connector allows powering via smartphone, power bank or computer
USB/MIDI implementation (including NRPN/CC control of all parameters and bulk load/save)
Apparently, it has always been the company founder Uli Behringer's dream to create a synth that is cheap enough for kids to get their hands on, in-order to enable them to start making music, and looks like this is that synth.
Now, Uli Behringer believes he has fulfilled his dream of creating a synth that even kids can afford.
$49 is a suggested retail price at the moment. Behringer expects the JP-4000 to be ship in June 2022.