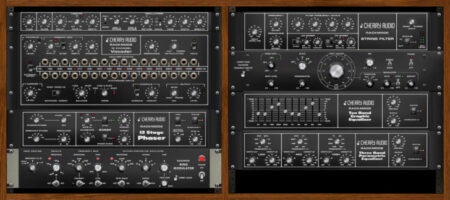 Cherry Audio has introduced Rackmode Signal Processors, a bundle of eight software plugins, based on Moog Signal Processors of the 1970s and '80s.
The Rackmode Signal Processors are circuit-modeled emulations, based on the original rack hardware.
The collection includes:
Rackmode Vocoder (instrument and effects versions)
Rackmode Phaser
Rackmode Ring Modulator
Rackmode String Filter
Rackmode Frequency Shifter
Rackmode Graphic EQ
Rackmode Parametric EQ
What Cherry Audio says about them:
"In the late '70s and early '80s, Moog (then owned by Norlin Music, Inc.) wanted to extend their reach further into the production studio. One effort was the Signal Processor family of rack-mounted products featuring the 16 Channel Vocoder, 12 Stage Phaser, and the Ten Band Graphic and Three Band Parametric Equalizers. Other related rack products were the Frequency Shifter and Ring Modulator, based on the designs of pioneer Harald Bode, and the singular String Filter created by Moog's Custom Engineering group.
The Moog Signal Processors have found a place in production facilities worldwide, both past and present. Artists like Wendy Carlos, Yellow Magic Orchestra, Tangerine Dream, John Carpenter, Genesis, Jan Hammer, Mouse on Mars, and Coldplay have used them to shape their distinctive sounds. And producers as diverse as Giorgio Moroder, Mike Elizondo, and Sylvia Massy have cited these black boxes as treasured parts of their studio gear. Today these units are increasingly scarce and fetch prices far above their original value – that is, if they can be found at all."

Features:
Rackmode Vocoder – Rackmode includes two versions for this 16 channel classic: an instrument plugin with a built-in polyphonic dual oscillator, and an effects plugin to modify other input formats and DAW tracks for unlimited processing flexibility.
Rackmode Phaser – Based upon the definitive 12 stage original known for its lush, sweeping textures.
Rackmode Ring Modulator – Based on Moog's Harald Bode Ring Modulator with Squelch control.
Rackmode String Filter – This effect utilizes filter arrays that mimic acoustic string instruments, drawing from the extremely rare system created by Moog's Custom Engineering Group.
Rackmode Frequency Shifter – Mixes two external inputs or sidechains a single input with its own built-in oscillator. The Frequency Shifter creates colorful, often metallic effects by modifying the ratio of incoming frequency components.
Rackmode Graphic EQ – Ten selectable frequency bands with Drive and Gain controls, capable of creating exotic effects when used with other instruments and effects.
Rackmode Parametric EQ – Three bands for sculpting Low, Mid, and High-frequency ranges.
Additionally, Cherry Audio has expanded on the original designs, adding presets, LFOs, stereo processing, and more.
The Cherry Audio Rackmode Signal Processors collection is available now for $99, MSRP $129.
---