Electronic Keyboards
Digital Pianos
Portable Keyboard
Synthesizers & Workstations
Free shipping on most items over $9.99!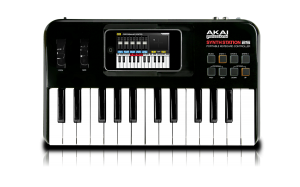 Akai Professional  introduced its cool Akai product the SynthStation25 at the 2010 Winter NAMM Show in Anaheim, California. The Akai SynthStation25 keyboard controller transforms your iPhone into a portable music production studio for mobile music creation. The SynthStation25 features 25 velocity sensitive, synth-action keys, a built-in dock for the iPhone, pitch and modulation wheels, physical control buttons, audio out and headphone out.
The SynthStation25 is designed to work well with the Akai Professional SynthStation Studio app as well as other MIDI software. The SynthStaton Studio app is the Apple iPhone application that is available exclusively from Akai. It is a  3 powerful virtual analog synthesizers application each with different 3 oscillators synths and drum kits. The SynthStation app enable musicians to sequence, build songs and change all just like a typical sequencer, play your keys and mess with all your settings of your synths. The two separate products when work together will transform the iPhone into a professional musical instrument.
Similarly, if you intend to use the controller as a standalone midi controller, all you need to do is to remove the iPhone from the dock and you can use it with any MIDI software you like. The cool SynthStation25 easy setup, with battery powered option and flexibility, is deemed a preferred choice for musicians on the go.
Digital Pianos
Electronic Keyboards
Organs
Pianos
Player Pianos
World Instruments
Electronic Music
Audio Samplers
Audio Sequencers
Drum Machines
MIDI Interfaces
Production Stations
Sound Modules
Tabletop Synthesizers
Das Keyboard High-Performance Mechanical Keyboards
The World's First Cloud Connected Keyboard.