BOSS has introduced the FS-1-WL Wireless Footswitch, a multi-function foot controller that's designed to control digital music score apps, YouTube videos, DAWs, and supported BOSS and Roland gear wirelessly over Bluetooth.
You can connect a MIDI cable to control wired multi-effect processors, pedals, and other MIDI hardware. And with the dedicated editor/librarian app, the FS-1-WL can be customized to control nearly any software application or MIDI device.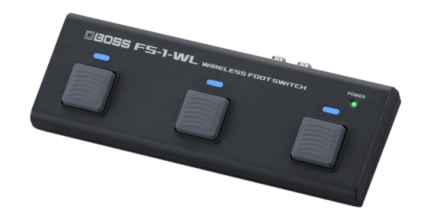 FS-1-WL can send keyboard commands over Bluetooth to smartphones, tablets, and computers, and comes with three pre-loaded setups for popular apps. Users can also change presets, control effects, and more on Bluetooth-equipped BOSS products like Pocket GT, Katana-Air, and Waza-Air, or the GX-100 via the Bluetooth Audio MIDI Dual Adaptor.
In addition, the FS-1-WL supports communication with Roland's WM-1 Wireless MIDI Adaptor and WM-1D Wireless MIDI Dongle to control MIDI hardware devices and computers without built-in Bluetooth support.
With the FS-1-WL editor/librarian app on a Mac/Windows computer or iOS/Android mobile device, users can assign custom keyboard commands to the footswitches, either single keystrokes or combinations with modifier keys like shift and control. And in MIDI mode, custom PC and CC messages can be assigned. The app software also provides the ability to save and organize configurations for different needs.
Two AAA alkaline batteries offer up to 14 hours of operation on the move, and AC power is supported with an optional BOSS PSA adaptor.

Up to two external footswitches can be connected to the FS-1-WL for expanded control, both with MIDI messages and keyboard commands. An external expression pedal can also be connected for continuous parameter control of any device that responds to MIDI CC messages. The FS-1-WL features a TRS MIDI jack for wired operation of MIDI hardware devices. It also functions as a plug-and-play MIDI input device for computers and mobile devices over USB.
BOSS FS-1-WL will be available in the U.S. in November for $129.99.
---