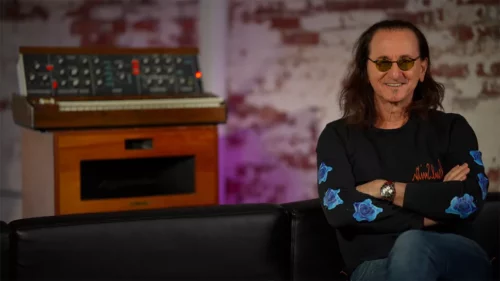 The Bob Moog Foundation has just kicked off another fundraising raffle, and this time, the prize is the most famous synth in history. It is a fully-restored vintage Minimoog, that's been signed by Rush bassist, vocalist and synth player Geddy Lee.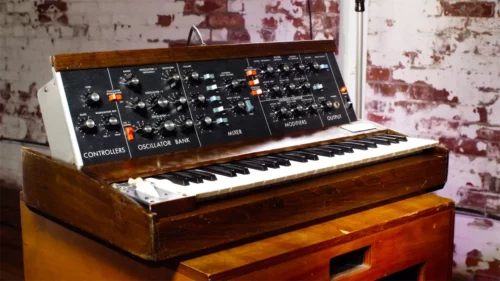 Fully restored, the synth in question has serial number 4070, and was built at Moog Music's Williamsville, NY, USA factory on 14 Feb, 1974 (built with love, presumably, given that date). What's more, it has Kevin Lightner's Opto
Opto-Key upgrade – this replaces the original mechanical contacts with infrared light sensors, eliminating wear and the need for contact cleaning. This useful modification also adds MIDI I/O – implemented discreetly so as to avoid holes in the chassis – and we're assured that this Minimoog is in excellent technical condition, with just minor cosmetic flaws (think of them as adding character).
The Minimoog has been meticulously restored by technician Jareth Lackey of Synthpro Restorations and, due to its age, good condition and that Geddy Lee signature, has an estimated value of $10,000 and it is likely to increase in value.
Geddy Lee, prominently has used the Minimoog extensively throughout his career, including on Rush's most iconic tracks The Trees, Countdown, Xanadu and Tom Sawyer.  "The Minimoog sets itself apart because it has a fat, identifiable tone. I really like that," noted Lee.
Lee praise the cultural impact of the Minimoog's creator: "Bob Moog's legacy stands out as a pioneer, an inventor, and a stylist," he acknowledges. "He helped initiate styles of music that wouldn't have otherwise been possible without his contribution."
"The Bob Moog Foundation is honoured to offer this rare Minimoog synthesizer signed by Geddy Lee," added Executive Director Michelle Moog-Koussa.
"Geddy's distinctive and innovative use of the Minimoog and Moog Taurus Bass pedals was intrinsic to Rush's early archetypal sound, and served as a hallmark of how those instruments could be artfully fused in a live setting. We are deeply grateful to Geddy for supporting our important work at the intersection of science, music, and innovation."
Tickets for the raffle begins on February 6 and ends on February 27, 2023 at 11:59 p.m. ET, or when all 10,000 tickets sell out, whichever comes first. The raffle is open internationally.
Funds raised from the raffle will be used to expand the Foundation's hallmark educational project, Dr. Bob's SoundSchool, which has inspired over 25,000 elementary school students through the science of sound. The raffle also helps support the Moogseum, an immersive, experiential museum located in Asheville, NC, which brings the science of sound and synthesis alive for people of all ages, through Bob Moog's pioneering legacy. The Moogseum opened in May 2019, and has since welcomed over 25,000 visitors from all over the world.
Tickets are $25 each, five for $100, 12 for $200, or 35 for $500, and can be purchased at the Bob Moog Foundation website. The winner will be announced on Friday, March 3, 2023.
---