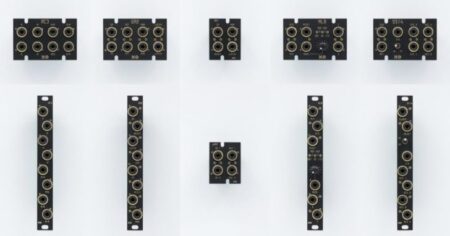 Xodes inform us that they have released a variety of Euro-compatible utility modules, in both 1U and 3U.
The modules include an analog logic module, a gate randomizer and a sequential switch.
Overview of the new modules, from left to right:
AC3: Analog Computations based on inversion, addition / average and subtraction of 2 input signals, which could even be simply used as a buffer/inverter or voltage doubler when using only 1 input.
GR2: Dual Gate Randomizer, with Reset inputs, as well as Latching and Momentary outputs per channel. The first Momentary output is normal to the next Gate input and allows generating 2 distinct, yet synchronized sets of randomized outputs.
GR1/µGR2: Single or Dual Gate Randomizer with user reversible panel, and function set via jumpers on the back (1U only). The function is just like GR2, with a smaller footprint. In µGR2 mode, outputs can independently be set to Latching or Momentary, and there is normalization from output 1 to input 2.
MLB: Malleable Logic Block, some sort of compact version of our previous logic module (LB5), with voltage control over the logic functions which are NOT, AND, OR, XOR and a D-type Flip-Flop with Reset, as well as a complementary output.
SS14: Bidirectional 1 to 4 Smart Sequential Switch, with some special features like sequence length defined by greatest of the O/I used, random mode, and normalization of the O/I jacks.
Detailed information on the modules is available at the Xodes website.
---