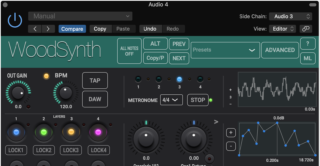 Woodman's Immaculate Maple Syrup Studio has released WoodSynth v2.0 – a major update to its multi layer synthesizer for iPad and macOS.
Here is what's new in WoodSynth v2.0:
Added multi-point ADSR display/editor for the Amplitude Envelope.
Added FM synthesis (Phase modulation between the main oscillators).
Added source selection for the main LFO's:
LFO signal can now come from the samples of any of the 4 layers.
LFO signal can come from the track or side chain audio (low-passed or RMS)
Added unison mode per layer (4 layers * 16 voices -> 64 voices !).
Added Aux Envelope ADSR routing to: Phase modulation (FM synthesis), Ring Modulation of OSC1&2, LFO frequency modulation, Crossfade OSC1&2
Added oscilloscope window.
Added Midi Learn for almost all controls.
Layer Velocity and Pressure popups are now multiple selection panels.
Added volume control for each step in the sequencers.
Added Parameter2 control for each step which can be routed to :?Filter Up/Down?Filter Q?LFO frequency modulation
Added oscillator and samples frequency modulation to the main LFO's.
Added 15 presets.
When not using iCloud the AUv3 presets will be copied into a "from_auv3" folder in the stand-alone app.
Fixed font scaling in Cubasis and Garageband.
Fixed crash in samples when auto gain is on and slice width set to zero.
Visit the Woodman's website for details.
---