Kiviak Instruments is drip-feeding us information on its WoFi sampling keyboard. When will we get the full reveal, though?
French start-up Kiviak Instruments recently introduced the WoFi, a new and potentially interesting sampling keyboard.
The latest episode of SequencerTalk features an interview with Romain Giannetti, founder of Kiviak Instruments. Giannetti introduces the Wofi, discusses features and also demos the cool sounds that it is capable of making.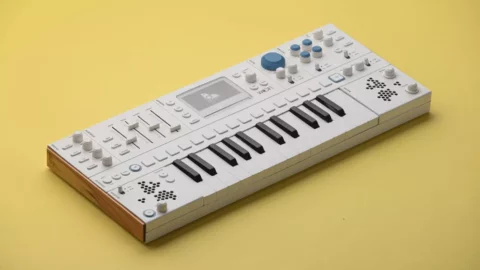 WoFi is designed for portable convenience and will enable you to sample sounds via both a built-in mic and line input, then play them back using a variety of classic sampler emulations and other modes. Sounds can be sculpted using the filter, assignable envelope and LFO, and there's also the mysterious "texturer" – some kind of granular processor – that promises to "elevate" your sound.
Additional features include a sequencer, accessible via the buttons above the keyboard, while the built-in speaker makes this a totally self-contained little instrument.
Connectivity options are set to include stereo audio, MIDI, USB, CV, Gate and Clock, while the name suggests a degree of wireless support, as well. We're informed that users will be able to share patches via the mywo.fi cloud and also the intriguing 'cartridge'.
Official details are still to be announced. It looks like the WoFi keyboard will be making its official debut at Superbooth 2023. In the meantime, you can find out more via the Kiviak Instruments Instagram and Facebook pages. Check out on the Kiviak Instruments website, though.
Das Keyboard 6 Professional - Begin to enjoy your modern workday.
Jazz Up Your Valentine's Day With Filmora
Filmora 12
Edit Anywhere,in Every Way.
New Year's Eve Party
Sam Ash Holiday Deals
AmpliTube 5 MAX $/€99.99 deal
MAX Madness - up to 83% off MAX music software bundles
TONEX Pedal
Christmas Tree Video
---