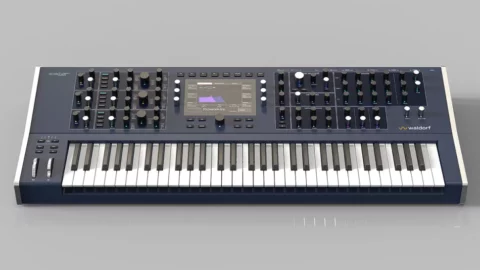 Waldorf Quantum synth takes a big leap forward with a polyphonic aftertouch keyboard, increased polyphony and more storage. The Quantum Mk2 version promises some significant improvements.
Released in 2018, Waldorf Quantum is a bona fide supersynth. Each of its three oscillators can draw on one of five synth algorithms – including the classic Waldorf-style wavetables – and you get both digital and analogue filters. A wealth of modulation possibilities is included, as well.
Now, five years on, we have the Quantum MK2, a reimagining of the original synth that tweaks the already powerful formula in a variety of ways.
What's new in the Waldorf Quantum mk2:
There's now polyphonic aftertouch. Quantum MK2 is the first instrument to feature a 61-key version of Fatar's TP8/SK keybed, and enables you to assign aftertouch parameters on a per-key basis. As such, there is huge potential for expression.
If you want to take your control a step further, you can also play the Quantum MK2 using an MPE controller. Just plug one in via the USB port and you should be good to go.
In addition, you now have 16 voices of polyphony to play with. This has been achieved by combining the eight analogue filters with the digital dual multimode filters. A new set of allocation modes enables you to control what goes where.
Sample storage has also been increased – from just 4GB to 59GB. This will come as great news to those who want to take full advantage of Quantum's granular and multi-sampling engines, and gives sound designers much more room to flex their creative muscle.
Quantum ships with 2GB of sample content and presets from the likes of Richard Devine, Howard Scarr, Reinhold Heil, BT, Matt Johnson, Joerg Huettner, Kevin Schroeder, Sascha Dikiciyan, Kurt Ader, Mike Huckaby, Thorsten Quaeschning and others. You can also transfer sounds to and from Waldorf's Iridium synth – in fact, we are told that the new Quantum firmware (3.0) has been combined with the Iridium firmware to create what is known as the Waldorf Synthesis Platform.
A few design tweaks have also been made to Quantum – improved mounting of the touch display is said to mean wider viewing angles for example, and we are promised a more intuitive way of controlling some of the synth's more advanced features.
Quantum MK2 is expected to be available at the end of this month priced at €4.819,00 (incl. German VAT). Find out more on the Waldorf website.
---