Today, Waldorf has introduced the Iridium Core, a compact synthesizer that they say puts the full Iridium synth engine into a compact desktop synth with 12-voice polyphony.
Waldorf's Iridium synth began life as a desktop module, then turned into a keyboard, and has now risen in a desktop format once again. Known as Iridium Core, this new 12-voice version contains the full Iridium sound engine, and enables you to access it via a supposedly easy-to-use interface.
The Iridium Core is compact enough to fit into laptop bags and in carry-on luggage, but still features 5 synthesis engines: Wavetable, Multi- & Granular-Sampling, Waveform, Kernel FM and Resonator. Combined with a broad selection of digital filter and processing options, Iridium Core lets you explore a huge range of electronic sound.
Why the need for it, though? "Many performing musicians have asked us for a more compact and portable form factor for the incredible Iridium sound engine to pack into their travel bags or allow already densely-packed studio environments to more easily accommodate another hardware instrument," explains Waldorf Music CTO Rolf Wöhrmann.
"Inspired by their feedback, we came up with the Iridium Core concept, and are very proud of the finished result," he adds. "Indeed, it's a thing of beauty, ready to be taken anywhere, and we can't wait to hear all the music made with Iridium Core!"
Iridium Core shares the same software platform as Quantum, Iridium Desktop & Iridium Keyboard. All instruments are powered by the Waldorf synthesizer OS and will receive joint updates.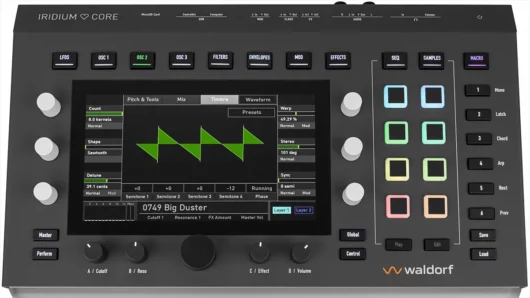 Iridium engine features three oscillators, five synthesis models (wavetable, multisample/granular, waveform, resonator and kernel), filters, a 40-slot mod matrix with LFOs and envelopes, effects, an audio recorder and more. As on previous iterations of the synth, these features can be accessed from a combination of a touchscreen, buttons and knobs.
These controls include six assignable macro buttons for performance control, and four user-definable knobs that work on either a patch or global basis. There are 1,700 factory presets, and patch compatibility with not only the other members of the Iridium family, but also Waldorf's Quantum and Quantum MK2.
Connectivity includes mini-jack MIDI I/O, CV, Clock, audio I/O and a MicroSD slot.



Specifications:
Compatible with the Waldorf Quantum synth engine
Software: Waldorf Synthesis Platform OS
Oscillators

3 Oscillators each capable of 5 synthesis modes:
Particle (Sampling and Granular Sampling)
Resonator
Kernels (up to 6 sub-oscillators which can be interlinked through FM, AM or Wavetable-position at audio rate)

Dual Stereo Filters per voice

True stereo pathDual Digital Filter with independent modes:

12/24dB LP/HP/BP in all combinations
Nave, Largo, PPG, Quantum and State Variable models
Analyzer displayed in Filter view

Filter curve animation when modulated (optional)
Sophisticated filter routing options with modulatable panning and levels

Digital Former

Filter models like State Variable, Waldorf Nave, Largo and PPG in HP/LP/BP/Notch
Comb filters, Bit-Crusher, various Drives, Ring-Modulation

Modulators

6 Envelopes
6 LFOs
Komplex Modulator (LFO/Envelope combination with user-definable shape and morphing)

Mod Matrix

40 slots
Fast assign mode
One additional control amount per slot
Identical Sources and Destinations can be used multiple times until the matrix is full

Effects

5 slots per layer
Various parallel and sequential routing options
Reverb, Delay, Chorus, Phaser, Flanger, Drive, EQ, Compressor, Tremolo

Performance features

Advanced Arpeggiator
Step-sequencer with up to 64 steps for notes and parameters
2×4 button pads assignable to notes or chords
4 user-assignable potentiometers
6 user-configurable macro buttons
Favourites screen for quick patch recall
XY control on touchscreen
Wheels touchscreen for MIDI controls like mod wheel, pitch bend, aftertouch and velocity
MPE capable

Screen

Industrial-grade highly responsive touch screen with Brightness control
1024×600 pixels

Voices

12 voice polyphony
Duo-timbral
Mono, Legato and Unisono modes

Patches

Over 1700 factory patches
Capacity of 7000 patch memory slots (numbers 0000-9999 can be used)
Patches from Quantum and other Iridium variants can be loaded and vice-versa
Category filter for patch list
6 GB sample flash memory preloaded with 2 GB factory samples

Connections

Stereo Audio Out: 2x TS jacks
Stereo Audio In: 2x TS jacks
Headphones TRS output with level control
DIN MIDI IN & Out, mini-TRS Type A (two adapters to DIN MIDI sockets included)
USB Type B (device) for MIDI connection to computer
USB Type A (host) for storage media and MIDI devices
MicroSD slot
2 high-resolution CV Inputs which can be used as modulation sources in the Mod-Matrix
Analog clock In & Out with clock divider settings

Sturdy metal case
Iridium Core Audio Demo:

Waldorf Iridium Core Synthesizer is available now for €1,849, rising to €1,941 after four weeks. Find out more on the Waldorf website.
---