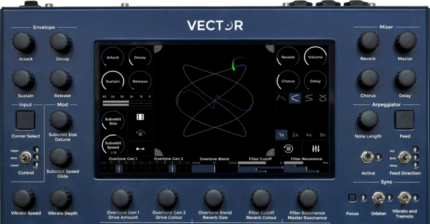 Vector Synth has released an update to the Vector firmware that adds MPE support, and new expressive options for non-MPE controllers.
The Vector synthesizer is a digital synth module that features a hybrid synth engine, 16-voice polyphony, a deep arpeggiator, effects and more.
The new firmware 2.8 exposes the trajectory and synthesis parameters:
Horizontal and vertical position of the mix point
Suborbit speed and size
Amplitude and pitch
Filter cutoff and resonance
Amount of phase modulation etc. during synthesis
Vibrato and tremolo speeds and depths
Each note travels a different trajectory by controlling their horizontal and vertical position offsets.
The Routing Table
The routing configuration is arranged into a neat table — controllers to the left, destination parameters to the right. Each route can have an individually tuned translation function to deal with situations where 1:1 mapping is not enough to achieve nuanced expression. A small live preview thumbnail is provided for each destination.
A single source can transmit to multiple parameters, scaled in different ways, with different operators.
The update is available now as a free download.
---