SonalSystem, in cooperation with Erica Synths, has introduced three sound libraries for the Sample Drum Eurorack module.
What they say about the loop libraries:
"We tailored full and FREE versions of these three loop collections, sliced and formatted with start/end points, each mapped with parameters to match Sample Drum's onboard real-time effects section. This lets you get expressively hands-on, transforming beats with attack and decay envelopes, HPF, LPF, delay, reverb, bitcrusher, and drive effects."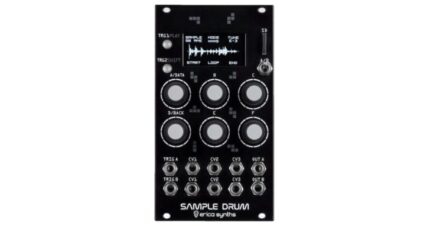 The collections include loops, one shot samples and more:
BREAK BEET ROOTS – Studio recorded on an old Ludwig drum kit with vintage mics through an analog console, this collection captures the sound of vintage soul, 70s funk, boom bap, and hip-hop history.
OMBRA – This analog collection of original drum loops covers diverse tempos and styles. There is something here for everyone forging IDM, neurofunk, and tech house tracks.
THE GOOD, THE BAD, AND THE UGLY – This collection of loops was made with big bass, noise and grime, ideal for emotive music and soundtrack productions.
The libraries are available now for $19.99. Use the code samplemethis30 for 30% off. Free demo versions of the libraries are also available.
---