Video overview from Superbooth 2021,via Sonic State
The Godfather is designed to match the form factor of Moog's Mother-32, DFAM & Subharmonicon.
Enjoy Electronics, creators of the Reminder effects processor, has announced a new multichannel audio processor, The Godfather, in Moog's 60hp Eurorack form factor. It gives you four independent channels of mixing functions and effects, including panning, compression, limiting, delay, filters, reverb and more.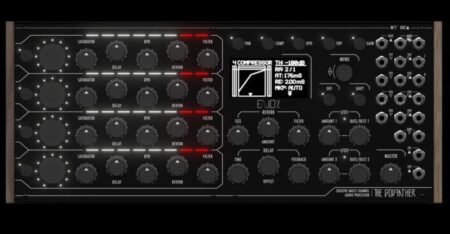 Features:
4 input channels with complex mixing functions (Compressor, Side Chain, Limiter, Shape EQ, Pan, Stereo Width, Gain Staging)
Independent effects per channel
4 independent Delays
4 Infinite/Looper Feedback
4 Stereo Offset
4 Double Pulse Delay
13 HP/LP Filters
4 Saturators
Reverb with dedicated HP filter
2 assignable LFOs
4 independent Trigger Buttons
3 independent Triggering Modes for creative routing possibilities
4 CV IN
2CV OUT
MIDI IN/OUT
GATE IN/OUT
4 Channel Audio In
4 Channel Audio Out
OLED Display
60hp Eurorack format, with aluminum and wood case
The Godfather is still in the prototype stage but it is looking great so far and they expect to open preorders in a few months.
For more info check Enjoy Electronics website
---