GForce Software, in collaboration with Tom Oberheim, has introduced OB-E V2, described as "a pin sharp emulation of the Oberheim 8-Voice".
The update features a variety of updates, including a new 'Vintage' control and a refined 'Detune' parameter, along with a new reverb, 100+ new presets and more.
What GForce Software say about it:
"Last year, as we neared the release of OB-E, we were contacted by Marcus Ryle on behalf of Tom Oberheim. Marcus is a co-founder of Line 6 but also a former Oberheim developer who contributed to the OB-Xa, DSX, DMX, OB-8, Xpander and Matrix 12. Through Marcus, OB-E found its way to the ears of Tom Oberheim and they were both impressed enough to suggest a collaboration to refine the instrument and release an update carrying their full endorsement.
Working under the guidance of Tom and Marcus, we further enhanced the already incredible sounding OB-E. Refining the Detune feature and adding a new Vintage knob, dials in more realistic musical inaccuracies in line with the original instrument for a truly authentic 8-Voice experience."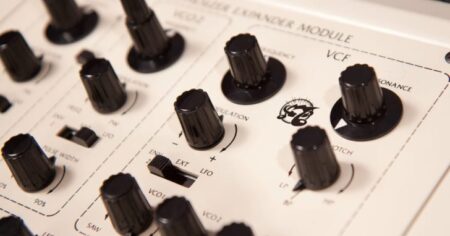 New in Oberheim OB-E v2:
New presets
Vintage knob & Refined Detune parameter
Matrix Reverb
Drum Mode and 10 drum kits presets
PC support, VST3 and Apple Silicon Native
Sequencer Zoom
Flexible scaling UI
Key features:
Authentic sounding emulation of the Oberheim 8-Voice
700+ factory Patches 'designed to fit in a mix', all tagged and categorised
Librarian for easy access to the presets (Arrow Keys Navigation)
ZOOM enlarges an individual SEM filling the UI with front & rear panels side by side
Group and Offset mode to edit all SEMs at once, Individual SEM Copy/Paste/Save
Upper/Lower SEMs can be Split across the keyboard
Multi-faceted analogue style sequencer
Extensive Velocity & Aftertouch modulation, Pan and Volume per SEM
Polyphonic aftertouch and MPE
Oberheim OB-E v2 is available now for £99.99 Ex. VAT
Das Keyboard 6 Professional - Begin to enjoy your modern workday.
Jazz Up Your Valentine's Day With Filmora
Filmora 12
Edit Anywhere,in Every Way.
New Year's Eve Party
Sam Ash Holiday Deals
AmpliTube 5 MAX $/€99.99 deal
MAX Madness - up to 83% off MAX music software bundles
TONEX Pedal
Christmas Tree Video
---