Tempera is a beguiling granular instrument that can create dreamy sample-based soundscapes
Superbooth 2023: A sneak preview of the Tempera synth, a new granular instrument by the makers of the Vector Synth.
The company website indicates that this won't be properly unveiled for 13 days, but the developer will be going to Superbooth.
The good news is that Tempera looks great. It features eight sample slots, each of which is represented by a vertical column of buttons. You can move up and down to scrub back and forth through the sample, and the samples can be played back polyphonically.
Other features include four granular emitters, envelopes, LFOs, a filter and a reverb.
As the video demonstrates, Tempera does a great job of creating evolving ambient soundscapes.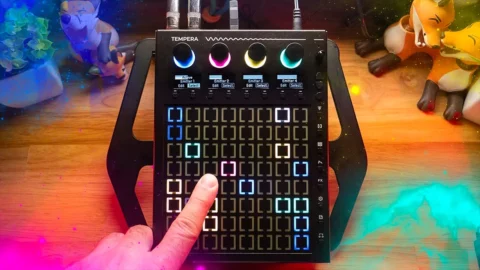 Features:
8 sample slots, each represented by a vertical column, that can be played back polyphonically;
4 granular emitters;
Envelopes;
LFOs;
A filter; and
Reverb
Official details on pricing and availability are still to come at the Tempera website.
---