SynthNes is a free ROM that runs on an Everdrive N8 Pro flashcart, and a companion PC app that transforms your vintage NES into a MIDI-capable synthesizer.
Features:
Control all five NES audio channels via MIDI or included virtual keyboard
Expandable by connecting more NES's
Easy to use PC interface
PDF manual
Modulation
Automation
Presets
Polyphonic operation
Unison mode
Animated graphics
Hidden surprises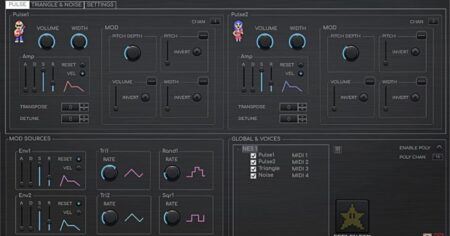 The ROM is available now as a free download. Donations to help support future development are welcome by the developer.
*Note: If you need a hardware solution for the NES, you can check out Super MIDI Pak.
Jazz Up Your Valentine's Day With Filmora
Filmora 12
Edit Anywhere,in Every Way.
New Year's Eve Party
Christmas Tree Video
Sam Ash Holiday Deals
AmpliTube 5 MAX $/€99.99 deal
MAX Madness - up to 83% off MAX music software bundles
TONEX Pedal
Das Keyboard 6 Professional - Begin to enjoy your modern workday.
---