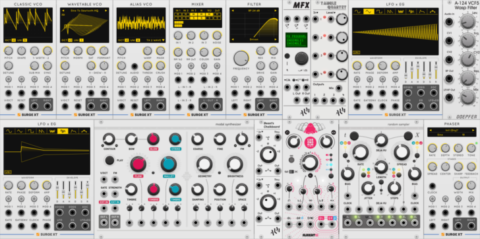 Surge XT, the open-source hybrid software synthesizer, is now available as a collection of free modules for VCV Rack.
Each part of the synth has been reproduced as an independent virtual Eurorack module, which can be patched in any configuration.
For this new release, the Surge community collaborated with two designers from the Rack community, Pyer (VCV, Geodesics) and Steve Baker (MindMeld). The new designs combine the best of both ecosystems and the UI should feel familiar to both DAW and modular synth users alike.
Every module is both stereo and polyphonic and the collection holds no less than 11 oscillators, including virtual analog, FM, wavetable and physical modelling.
In addition, there are 20 effects, with direct access to the original presets found in Surge XT, a filter module with 33 filter types from classic analog modelling to advanced digital effects, a multimode waveshaper, plus mixing and utility tools. The classic multimode LFO/sequencer and envelope from Surge also makes an appearance which is even more flexible in a modular environment.
New modules such as an Envelope + VCA, a quad AD envelope, a quad LFO and a dual function generator have also been created especially for this modular take on Surge XT.
Surge XT for VCV Rack introduces a new modulation paradigm, with a click-to-assign matrix system that is common to all modules. The four CV mod inputs allow a single source to affect any number of parameters of the module, and a single parameter to be affected by any blend of the 4 inputs.
Surge XT for VCV Rack is an open source community effort and is available for free now for Windows, Mac and Linux in the VCV Rack library.
---