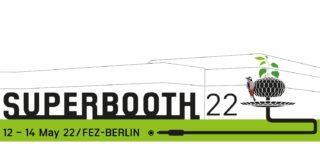 An annual trade show and festival for electronic musicians
Organizers of Superbooth have announced that Superbooth 2022 will be held May 12-14 at the FEZ in Berlin, Germany.
This year,  Superbooth 2021 was a scaled down edition because of pandemic realities, but the organizers tried to evolve the event to adapt to challenging conditions, making use of the grounds of the FEZ to set up outdoor tents and booths, decentralizing the event and allowing for increased social distancing.
They note:
"We tried to introduce a new concept of a trade fair combined with festival, which is more relaxed and spacious with all of its benefits and with strong focus on the quality of the experiences and encounters.
It was a very special edition this time, which was expected after this long break of more than 2 years, but probably the situation connected us even closer?!"
In addition to announcing dates for Superbooth 2022, organizers also announced that the inaugural SooperGrail, a new guitar-focused festival, will be held May 6-8, 2022, the week before Superbooth.
---