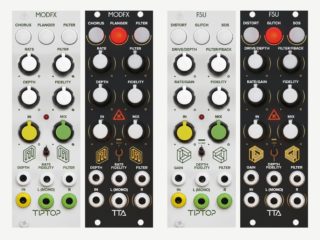 At Superbooth 2021, Tiptop Audio introduced two new Euro effects modules, ModFX and FSU, in addition to introduced a new line of Buchla 200 Series modules
Built on the same platform as ECHOZ, ZVERB and the Z5000, they have the same UI with CV control over all three DSP parameter and the Fidelity control over the DSP clock.
Both are available in the White panel as well as the newer backlit Black panels.
ModFX offers three banks of modulations effects, from classic stomp box and rack effects to more experimental processing not found in any other hardware. The developers say that one of the strengths of ModFX is the way it moves static mono sources into expansive stereo sound fields.
The Chorus bank has effects that range from subtle widening to wobbly ambiences or deep detuned rooms, particularly when combined with the Fidelity control.
Flange effects come from the modulation of very short delay times and this bank expands on that to include Karplus and Resonant pitch effects and panning using the Haas effect. Programs like the Chord Resonator can turn percussive tracks into harmonic material and the Haas panning creates wide stereo spreads without pitch or amplitude modulation.
ModFX's Filter bank does not have the typical high and low pass options common to synths and instead features a set of highly modulated and unusual filtering options. Programs include a couple of vintage inspired all pass filter based phasers, filter based panning and some vocal formant options.
An in-depth intro video:
FSU is designed to bring more aggressive and destructive processing to the FX lineup, from guitar pedal inspired distortion, to granular processing, to tape recorder style Sound on Sound looping.
Distortions include Ring Modulation and Frequency Shifting for some vintage analog mayhem.
Glitch bank has time-based effects that abuse the aspects of delay and pitch pushing them to more experimental and extreme sounds.
In addition, Sound On Sound recreates one of the more interesting features of reel to reel tape decks that allowed overdubbing endlessly without multi-tracking. This bank uses a short tape loop and adds a variety of digital processes like pitch shifting and granular playback to make it more experimental.
For more information, see the Tiptop Audio website.
Go Paperless with Edraw OffersUp to 60% off creativity products
Wondershare DemoCreator Summer Sale 2021
---