Official Video Intro:
Superbooth 2021, as promised, Dreadbox has officially unveiled the Nymphes, a compact six-voice analogue polysynth with a digital reverb.
Here's what Dreadbox say about it:
"The Polyphonic Synthesizer N Y M P H E S was developed during the obscure pandemic times and we really hope that it will bring a pinch of happiness on your face.
We tried to condense an ambitious idea in a small and compact box, without any compromise in the quality of the final instrument.
The result is stunning and ethereal …"
Dreadbox is also making a statement with the release of this synth, saying that it is "dedicated to all abused and oppressed women." It goes on to say: "May our voices unite and bring light, joy and happiness to this world of injustice and inequality."
At a time when gender inequality in electronic music is being recognised and challenged, this is a heartening gesture, with the company adding that "Each time you play a note on this synthesizer, imaging that you soothe their pain away and you will become a better human being and synth player.
"Smash the patriarchy."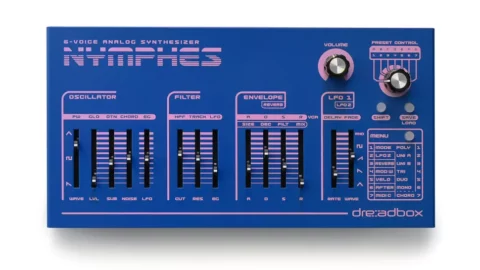 Features:
Analog synth voice
6 Voices Polyphony
Lush Digital Reverb (developed by Dreadbox)
12 Envelopes and 7 LFOs (2 envelope/voice, 1LFO/voice + 1 generic LFO) > 6 different playing modes
98 presets memory (49 factory and 49 user)
MIDI over USB or via DIN5 (with full CC In and Out documentation) > Compact , USB Powered for maximum portability
Durable, Metal Enclosure
Features per Voice:
1x VCO with Wave Forming > 1x Sub Oscillator
Noise generator
1x LFO per voice with: Key track, Fade In and Fade out, 5 waveforms and wide frequency (into the FM range)
2x Envelope Generators
24dB/octave Low Pass Resonant Filter with accurate tracking
6dB/octave High Pass Non-Resonant Filter
Common Voice Features:
1x common LFO (named LFO2) that can target any and multiple parameters with different amount to each one at the same time , with: Key track, Fade In and Fade out, 5 waveforms and Wide Frequency (into the FM range).
7x active Chords that you can edit, modulate and store on each preset.
Modulation wheel, Velocity and Aftertouch (monophonic) can target any and multiple param- eters with different amount to each one at the same time.
Specifications & Connections:
USB powered (1.5 Watts)
50 Playing hours with a 20,000mA power bank MIDI IN via USB or DIN5
1/4″ MONO TS Jack Out
1/8″ Headphones Out
Each voice comprises a VCO with wave forming, a sub-oscillator and a noise generator. There's also an LFO, two envelope generators, a 24dB/octave low-pass resonant filter and a 6dB/octave high-pass non-resonant filter.
In addition, on a global level you will find one common LFO and seven active chords that you can edit, modulate and store with each preset (there's space for 96 of these – 49 factory and 49 user). The metal enclosure and simple layout give Nymphes a pleasingly retro look, with a shift button enabling dual functionality from each control.
Nymphes can be powered over USB or run for up to 50 hours using a 20,000mA portable power bank. Connectivity includes MIDI In via DIN and USB, a 1/4-inch mono TS jack out, and an 1/8-inch headphone out.
The Dreadbox Nymphes will be available in November 2021 priced at €499.
Find out more on the Dreadbox website.
---