The IR-200 enters the Impulse Response pedal market with Celestion and offers huge synth power in a compact form.
The effects giant is turning into a big year for Boss, not only is it celebrating its history with anniversary pedal editions and enhanced reissues, but it is also entering bold new territory with the Eurus GS-1 guitar and EV-1-WL wireless expression pedal, its now making another debut with an amp and cab simulator effects pedal, the IR-200.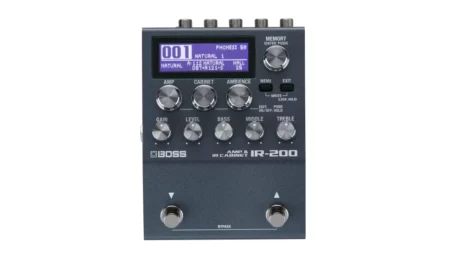 The IR-200 offers players the flexibility for recording and can transform your pedalboard into a mobile rig for stage and rehearsal. But Boss has also taken the step of partnering with speaker icon Celestion here.
The IR-200 boasts 144 BOSS and 10 Celestion Digital IR cab and mic combinations, and users can import up to 128 of their own WAV IRs via the IR-200 IR Loader software for macOS and Windows.
In addition, there are eight guitar amps to choose from to offer go-to platforms from "classic clean, tweed, and class A to vintage and modern high-gain". There are three bass amps as well. Players can then choose to use the IRs only or go fully mobile with the amps sims as well.
Two custom DSPs provide class-leading IR performance with support for mono and stereo files, up to 32-bit floating point/96 kHz resolution, and up to 500 ms length for natural bass response. Players are also able to use two IRs at once and feed signals to different destinations.
SY-200 Synthesizer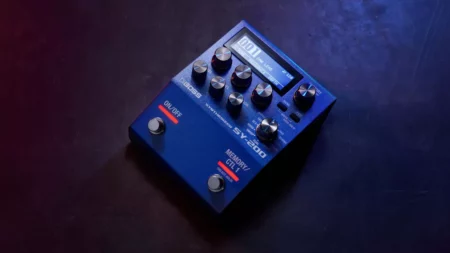 The IR-200 is a signifier release in itself, but Boss are clearly on a roll this year and have added a whole other new pedal to the 200 series. The SY-200 makes a lot of sense to us, bringing Boss's acclaimed synth technology to the 200 series, a line up of pedals that we think hits the sweet spot for form factor and features.
Boss are leaders in synth guitar and bass processing and this addition to the SY line sits between the classic stompbox SY-1 and SY-300 for a manageable size with plenty of feature scope.
Here's what they say about it:
"Offering a universe of rich, analog-inspired polyphonic tones in a small footprint, the SY-200 makes it simple to weave BOSS's expressive guitar and bass synth technology into all of your musical journeys. Building on the fun, instant-gratification experience of the acclaimed SY-1, this blue inspiration machine features an expanded sound set, more tone-shaping possibilities, and 128 memories for storing your sonic creations.
Two onboard footswitches provide deep real-time performance control, and you can take things even further with external footswitches, an expression pedal, and MIDI."

Features:
Advanced BOSS polyphonic guitar synth technology in a streamlined 200 series pedal
12 analog-style synth categories with many variations in each (171 sounds total)
Three adjustable parameters for customizing sounds
128 memories for saving and recalling sounds
Fast sound creation with hands-on controls and large display
No special pickup required—play rich, dynamic synth tones with any guitar or bass
Latency-free performance for unrestricted musical expression
Assignable Memory/CTL 1 switch for memory change, hold, pitch control, and more
Blend synth and normal guitar sounds with independent level controls
Parallel send/return loop for easy integration with other pedals on your board
Selectable modes for globally optimizing the synth engine for guitar or bass
Supports extended control with up to two external footswitches or an expression pedal
Full MIDI I/O provided with space-saving 3.5 mm TRS jacks (connection cables available separately)
Micro USB jack for firmware updates
Runs on PSA-series AC adaptor or three AA-size batteries
We believe the development of pedals to allow self-contained rigs for players is one of the most exciting developments for guitar in recent years; providing a whole new way to develop your rig and tone. And the connectivity here could enhance that further. In addition to a mono input, there's mono or stereo outputs, and an effects loop, allowing the IR-200 to integrate with your mono or stereo pedal setup.
Players Two IRs can be used at once, and it is possible to feed independent signals to different destinations, such as a stage FRFR cab or a venue PA. While two onboard footswitches are available for memory selection while performing, players control various functions with external footswitches, an expression pedal, or MIDI.
The IR-200 and SY-200  available for $399.99 / £351 / €399 and $299.99 / £307 / €349 respectively.
---