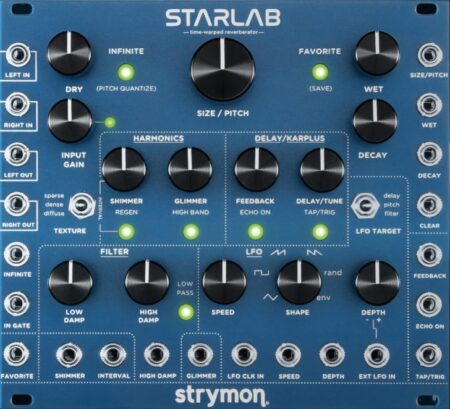 Strymon has introduced StarLab Time-Warped Reverberator, a modular reverb effect in Eurorack format.
Strymon StarLab reverb promises to time-warp you to places that other Eurorack modules can't.
Following up 2018's Magneto tape delay, Strymon has stepped back into the modular world with StarLab, which is described as a "time-warped reverberator". The company says that it set out to create "the highest quality reverb possible for modular systems," and one that comes with plenty of control.
You can choose from three reverb textures – Sparse, Dense and Diffuse – with each offering a different flavour. There's also a delay – an expanded reverb pre-delay, in fact – along with a range of modulation effects that can be used on their own or in addition to StarLab reverb.
In addition, there is an LFO, and if you switch to Karplus-Strong mode, StarLab becomes a delay-based, CV-tuneable monophonic string synthesis voice.
You can go even deeper with the Size/Pitch knob, which changes the reflection density and response of the reverb while retaining the integrity of the audio within the reverb. You can also add musical intervals to the reverb signal with Shimmer, and enhance the harmonic spectrum with Glimmer.
Add a filter section – which enables you to sculpt both the reverb signal and the Karplus-Strong string synthesis voice – and an Infinite button (this freezes the audio at the input to the reverb core, while allowing any new audio to be processed by the reverb on top of the frozen audio) and you have got a serious, if slightly bewildering proposition.
Features:
Three selectable reverb types for a wide variety of ambient textures
DELAY/KARPLUS section with feedback
Delay assignable to output for mod/verb and delay/verb effects
Four-octave Karplus-Strong string synthesis mode with damping control for string/verb full voice capability
LFO section with various waveforms to modulate delay time, reverb size, or tone filters
FILTER section to sculpt the high and low EQ of the reverb and DELAY/KARPLUS section
HARMONICS section to enhance the aural spectrum of the reverb
Adjustable SHIMMER for adding pitch shifting of up to +/- 1 octave to the reverb
GLIMMER for dynamic enhancement of harmonics
Adjustable reverb core size to increase or decrease the space for reflections, allowing for pitch control of the
regenerating reverb content
4-pole 24dB/octave variable resonance low pass filter
INFINITE freezes the input audio prior to the reverb tank
Independent WET and DRY level controls
An in-depth demo from sound designer Pete Celi:
Video Chapters:
00:00 What is StarLab?
00:27 Control Layout
01:00 Sparse Reverb Texture
02:42 Size/Pitch Control
03:54 Dense Reverb Texture
05:06 Diffuse Reverb Texture
06:18 Infinite Button
07:03 Filter Section
08:18 Low Pass Filter Q
08:59 Harmonics Section
10:03 Shimmer Interval
10:50 Regenerating Shimmer
12:00 Glimmer
13:12 Expanded Pre-delay
14:55 Echo Feedback
16:09 Tap/Trigger CV Input
17:22 Input Gain
18:20 LFO Target: Delay (Mod Effects)
19:23 Externally Clocked Delay + Mod
20:05 LFO Target: Pitch
20:59 Size/Pitch Quantize
22:09 LFO Target: Filter
23:21 LFO Shape: Envelope
24:13 Karplus-Strong String Synthesis
25:59 LFO in Karplus Mode
27:17 CV Tuning in Karplus Mode
27:54 String Damping
29:06 Fine Tune
29:41 Karplus Mode LFO Target: Filter
30:43 Portamento (Glide)
31:25 Karplus with Input
32:12 Tuned Infinite Voice
33:02 Onboard Favorites
Find out more on the Strymon website.
The Strymon StarLab is available now for $649.
---