Sonicware – makers of the Liven Bass & Beats Groovebox, the Liven 8bit Synth and the SmplTrek Portable Production Sampler – has introduced the LIVEN Texture Lab, a granular synthesizer and effects processor.
The LIVEN Texture Lab offers a wide variety of sound textures, ranging from lush ambient pads to aggressive experimental noise.
The Texture Lab uses a granular processor that slices sounds into grains, ranging from 2 ms to 1 second in length, then transforms and reconstructs them in a variety of ways, including manipulating grain shape, density, time warp, spatial position, and playback method to create entirely new sounds.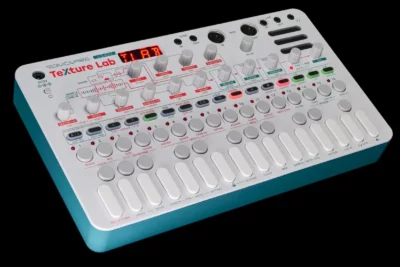 Features:
Sample, slice, transform and reconstruct audio to synthesize completely new sounds
Granular synthesizer with granular effects processor mode
Shimmer reverb for fantastical and majestic sounding spaces
128-step sequencer with parameter locking
A full tutorial on using the Texture Lab:

Texture Lab Audio Demos:

Texture Lab is available now to pre-order for $239.00, with shipping expected in June.
---