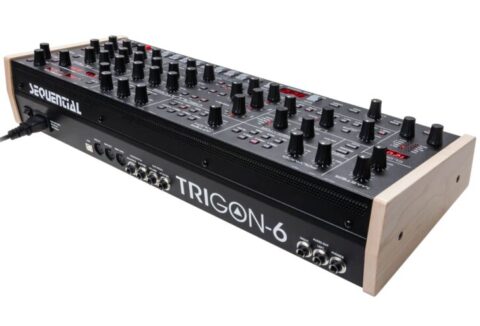 Today Sequential announced a desktop version of its Trigon-6 polyphonic synthesizer.
The desktop version is a compact and portable instrument that features the same sound engine of its keyboard sibling. It features three oscillators per voice, and a ladder filter that has been updated with a dedicated drive and feedback control, letting it go from "silky and smooth to bold and crunchy" with the twist of a knob.
"Desktop module designs continue to be a popular choice with our players," said CEO David Gibbons. "We spent a little extra time on MIDI polyphonic expression capabilities as we finalized this one, in anticipation of people pairing it up with some of the awesome MPE-capable controllers on the market. We're looking forward to hearing what people will do with it!"



The Trigon-6 desktop module offers a classic three-oscillator synth architecture with an enhanced ladder filter, which they say is inspired by some of the most iconic analog synths of all time.
The three oscillators provide a rich and flexible sound source, with familiar waveforms from triangle to more complex saws, and variable-width pulse. You can mix and match the oscillators to create intricate harmonics, detune them for chorusing effects, or sync oscillator 2 for "hard-edged growls".
The ladder filter has a 2/4-pole switchable slope and adjustable resonance that can add a distinctive peak or even self-oscillate. And Drive and Feedback add even more range.
MPE Support
The Trigon-6 supports MIDI Polyphonic Expression (MPE), an extension of MIDI that allows compatible devices to control multiple parameters of individual notes within MPE-enabled synths.
This provides for more expressive instrumental performances, as each note can have its own pitch bend, filter cutoff, amplitude, and other modulations. This gives you new ways to play the classic 3-oscillator, ladder filter sound.
Trigon-6 Audio Demos:

Trigon-6 desktop module is available for pre-order now, with a US MAP price of $2,499. Shipping worldwide in August. Sequential says that the Trigon-6 desktop will make its physical debut at Knobcon 2023, being held Sept 8-10, 2023 in the Chicago area.
---