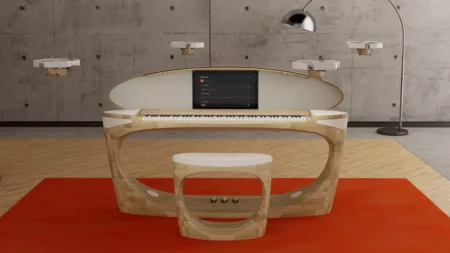 The Roland 50th Anniversary Concept Model Piano is a design concept, rather than a product, designed to challenge traditional assumptions about the instrument and to showcase some of the company's latest technologies.
We had briefed you on Roland's stunning 50th anniversary piano last year, but now it has landed at CES, and there is a new surprise: Drone Speakers.
These audio-enabled drones are designed to float around the piano and augment its built-in internal 360-degree, 14-speaker system. They communicate with the instrument on a low-latency channel – Roland had to develop its own platform for this, as Bluetooth audio has too much latency – and players can control their positioning as they perform.
The ultimate aim was to create a speaker system that can replicate the immersive sound of an acoustic piano. To achieve this, Roland created a 'speaker ball' to sit within the piano – these balls are positioned in the lid and on the left and right top edges. The sound field changes depending on the type of piano you're playing, so you should get a different experience for grands and uprights.
The drones take things a stage further, being designed to recreate the reverberant reflections that you hear when playing an acoustic piano. These promise to "bathe the player in a sound shower."
But, Roland concedes that the drones' propellers are currently "somewhat noisy", but there are plans to implement quiet drone technology as and when it becomes available.
While the Roland 50th Anniversary Concept Piano is not for sale, CES attendees can check it out at Roland's exhibit at CES in Las Vegas, Nevada, till January 8, 2023, at LVCC, Central Hall 15301.
More information on the design is available at the Roland website.
What they say about the unique instrument:
"The concept piano's one-piece molded wooden body, designed in collaboration with Japanese furniture maker Karimoku, was inspired by the fusion of the past and future, while its exterior, comprised of Japanese oak wood, provides deep piano tones from its speakers.
More than a beautiful design, the 50th anniversary piano aims to fill a gap in the industry. In the age of digital pianos, many find rich sound quality is sacrificed for innovation. With that, Roland's concept piano offers a 360-degree speaker system, which is able to send sound in any direction through its 14 adjustable speakers placed strategically throughout.
In addition to those onboard speakers, the sound field around the piano will be enhanced with drone speakers, the first of their kind, which float above the piano for an enhanced sound quality and eye-catching experience. These drones operate on a low latency dedicated communication channel, allowing players to control their positioning as they play. Through these unique structural advancements, this concept piano is able to provide the sound quality of classic instruments, all while maintaining the modern enhancements of Roland technology. The 50th anniversary piano offers advanced connectivity through the operation of these drones, as well as through its touch-panel table, which is embedded within the lid, supporting video conferencing, piano lessons and streaming tutorials, available through Roland Cloud."
---