With 11 Oscillator Models, a multi-part sequencer and a hands-on workflow.
Roland SH-4d is a unique instrument that packs 50 years of the company's history into a portable "future retro" synth.
Roland has launched the SH-4d, one of its more intriguing products. This "future retro" box of synthesis tricks offers 11 oscillator models, a multi-part sequencer and an interface that's built for hands-on sound design and experimentation.
What they say about it:
"Fifty years ago, Roland launched its first synthesizer, the groundbreaking SH-1000. The SH name has represented the company's core synthesizer instruments ever since, merging innovative new technologies with tactile interfaces for quickly designing sounds in the moment.
The SH-4d opens the next chapter in the long-running series, offering Roland's latest analog modeling advancements and a deep-yet-inviting panel that catalyzes creativity and rewards exploration at every turn."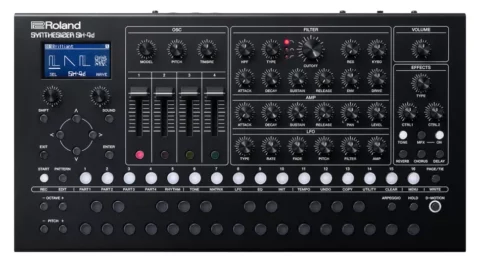 The SH-4d features a sample-based PCM Model, a flexible drum synthesizer, with rich tone-shaping capabilities for creating custom kits from scratch.
The SH-4d also features 32 knobs, four sliders and a slew of multi-function buttons. The sliders, buttons and LCD screen all automatically reconfigure themselves depending on which mode you're working in, and there are dedicated Filter, Amp and LFO sections. Modulation is covered off in the Matrix section, which enables you to route the output of the LFO or envelope generator to parameters in an oscillator model.
Among its many tricks, the SH-4d also features built-in motion sensors that allow that spring into life when you pick the synth up and physically move it around. The D-Motion mode offers X/Y control over two parameters, and the Visual Arpeggio feature enables you to shape note patterns using interactive displays.
The SH-4d sequencer enables you create sequences with up to 60 notes of total polyphony. There's also a versatile selection of Roland effects.
You can play the SH-4d via a 'two-plus' octave button keyboard, and there's also MIDI I/O so you can plug in something a little more practical or use the instrument in conjunction with other studio gear.
The SH-4d also functions as a USB-C audio/MIDI interface with 12 discrete audio channels. It can be powered via a standard USB-C phone charger or with AA batteries for up to four hours.
A performance demo, featuring Detroit techno legend Carl Craig:

"That machine is a little monster," says Craig. "So many options to not only shape sound but to shape the musical composition too."
Find out more on the SH-4d on the Roland website. The Roland SH-4d Synthesizer will be available in the U.S. in March for $650.
Jazz Up Your Valentine's Day With Filmora
Filmora 12
Edit Anywhere,in Every Way.
New Year's Eve Party
Christmas Tree Video
Sam Ash Holiday Deals
AmpliTube 5 MAX $/€99.99 deal
MAX Madness - up to 83% off MAX music software bundles
TONEX Pedal
Das Keyboard 6 Professional - Begin to enjoy your modern workday.
---