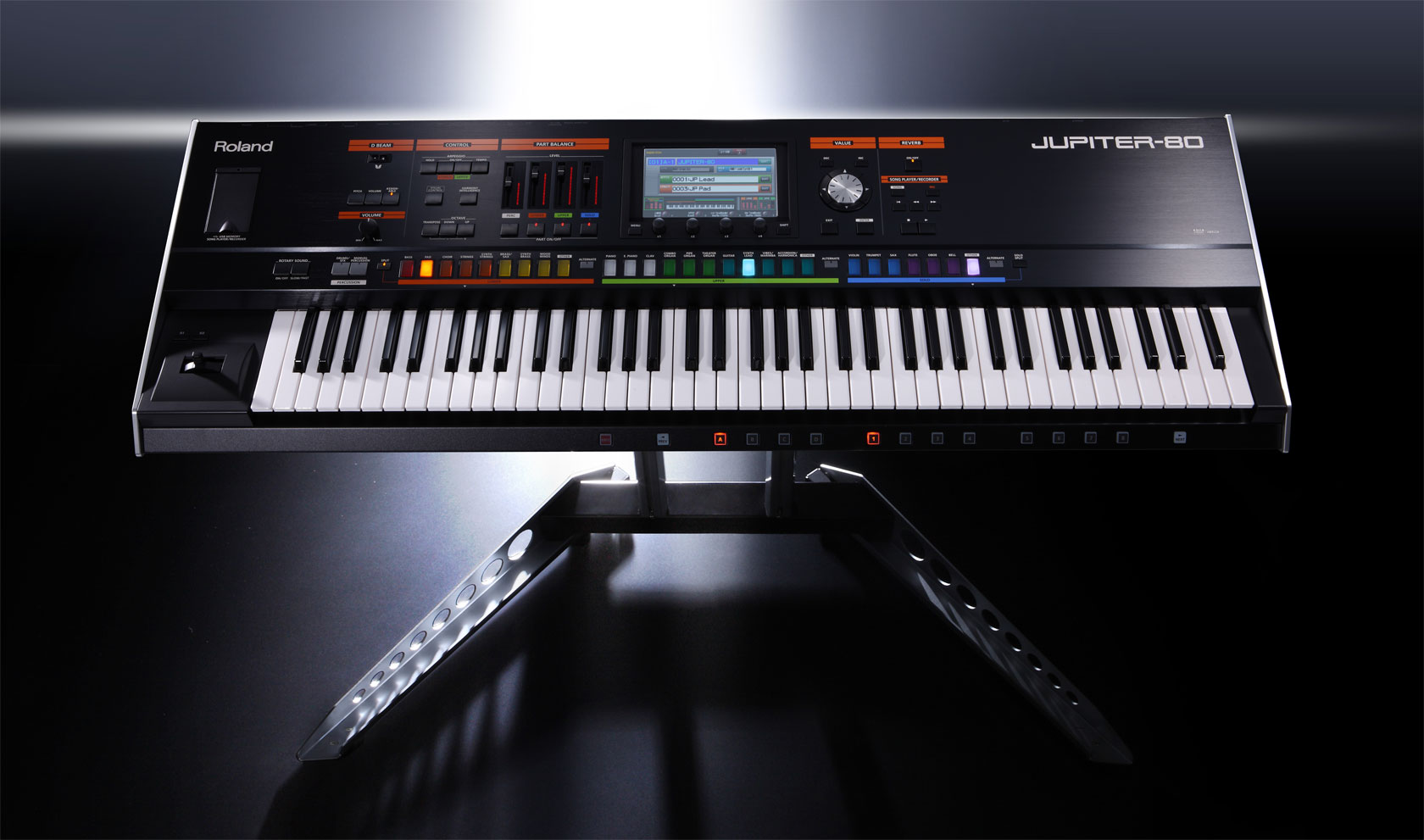 The Roland JUPITER-80 Synthesizer is akin to a story of two synthesizers. The Jupiter-80 focuses on being a live-performance synthesizer for live playing, and a synthesizer  with an array of sounds. It features 76-note semi-weighted synthesizer keyboard with SuperNATURAL sound engine, Behavior Modeling technology, max. 256-Voices Polyphony, color touchscreen, USB-MIDI/Audio interface, Tone Blender, D Beam controller.
What sets Roland Jupiter-80 apart from the synthesizers today? Normally, when a keyboardist is trying to reproduce sounds other than a traditional keyboard instrument on the synthesizer, the typical sound engine inside cannot truly "interpret" an expressive keyboard performance done on keys into an authentic guitar, trumpet, or violin performance. Similarly, in other big computer sample libraries you will find all sorts of tricks for key switching and sample variations and other ways of providing the full range of instrumental articulations on a keyboard. The SuperNATURAL synthesis engine makes those massive sounds more playable, thanks to Roland's newly developed Behavior Modeling technology. Behavior Modeling takes care of the interpretation by constantly analyzing the keyboardist normal, natural keyboard performance, and instructs the ultra-realistic SuperNATURAL sound engines inside the Jupiter-80 to "play" and constantly "articulate" the reproduced sound just as the "real" performer would based on the keyboardists timing and interval between notes, the strength at which the various keys are struck, or if the keyboardist is pressing a pedal to sustain notes. These actions, among others available to the keyboardist, are translated by the behavior model for the selected sound being reproduced into an authentic plucked or strummed performance in the case of a guitar, aggressive or smooth bowing in the case of a violin, and the sharp or smooth pitch changes created by the valves on a trumpet and the pressure of the trumpet player's breath. These are some of the articulations with behavior modeling.
Additionally, the Jupiter-80 architecture enables the use of four tones, each with its own effects block, each with independent controls, on each of two layers – upper and lower – plus solo and percussion voices. The upper and lower voices each have reverb – solo and percussion have compressor, EQ, and delay. Touch-button access makes it relatively easy to mix sounds. Start with splits and layers, and you are ready to use the massive sound content to produce big hybrid textures while Tone Blender then enables you to work more with movement. The Roland JUPITER-80 is a dream come true for live-performers and gigging musicians love this powerhouse synthesizer.
---