Roland has introduced the n/zyme Model Expansion for the FANTOM synthesizer series, the latest addition to their ZEN-Core Model Expansion lineup.
Could Roland's n/zyme Model Expansion be the cutting-edge wavetable synth plugin that runs in your Fantom hardware?
Instead of modeling an older synth architecture, n/zyme is designed to be "a thoroughly modern instrument", with a new synth engine from Roland. It features layered wavetable oscillators, phase and shape modulation, resonant filters, and two powerful step LFOs to create an Expansion that's designed to take the Fantom to sonic places that it was previously incapable of visiting.
Roland claims that n/zyme is also easy to program thanks to the Fantom's touchscreen and physical controls. You can jump or morph between waveforms – creating dramatic tonal shifts or evolving soundscapes in the process – and you have the facility to mix two layers with 63 wavetables each and adjust their positions in real-time. As such, n/zyme should be capable of conjuring up some rather complex sounds. And sounds can be shaped by drawing custom waveforms on the touchscreen, and these can then be tweaked using the modulation tools. There is also an X/Y pad on the touchscreen, along with automation support and tempo-synced control over speed, intensity, and more.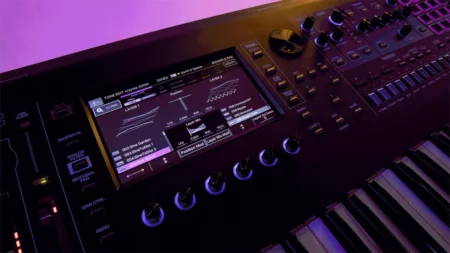 As for the two LFOs, these offer 16 tempo-synced steps and 37 shapes per step, while the Step Kick Switch can be used to add some percussive attack. There are eight filter types, including several vintage analogue designs, and you can also mix n/zyme's sounds with others on your Fantom.
The Roland n/zyme Model Expansion for the FANTOM synthesizer series is available now as a Lifetime Key for $149 through Roland Cloud. Support for n/zyme is included with the free Version 3.0 update for the FANTOM 6, FANTOM 7, and FANTOM 8 keyboards.
Find out more on the Roland website.
Up to 50% Off Das Keyboard Black Friday & Cyber Monday Sale!
Shop Now
for Up to 60% Off Discounts.
UNO for All - Save up to $/€200 on your choice of analog synth and drums
Strum, Stream and Save - Save up to 50% on a huge selection of iRigs
MODO Friday sale - MODO BASS & MODO DRUM bundle starting from $/€99.99
Up to 64 sound libraries free - SampleTank Squared
IK Black Friday MAX deals
AmpliTube 5 MAX $/€99.99 early Black Friday deal
---