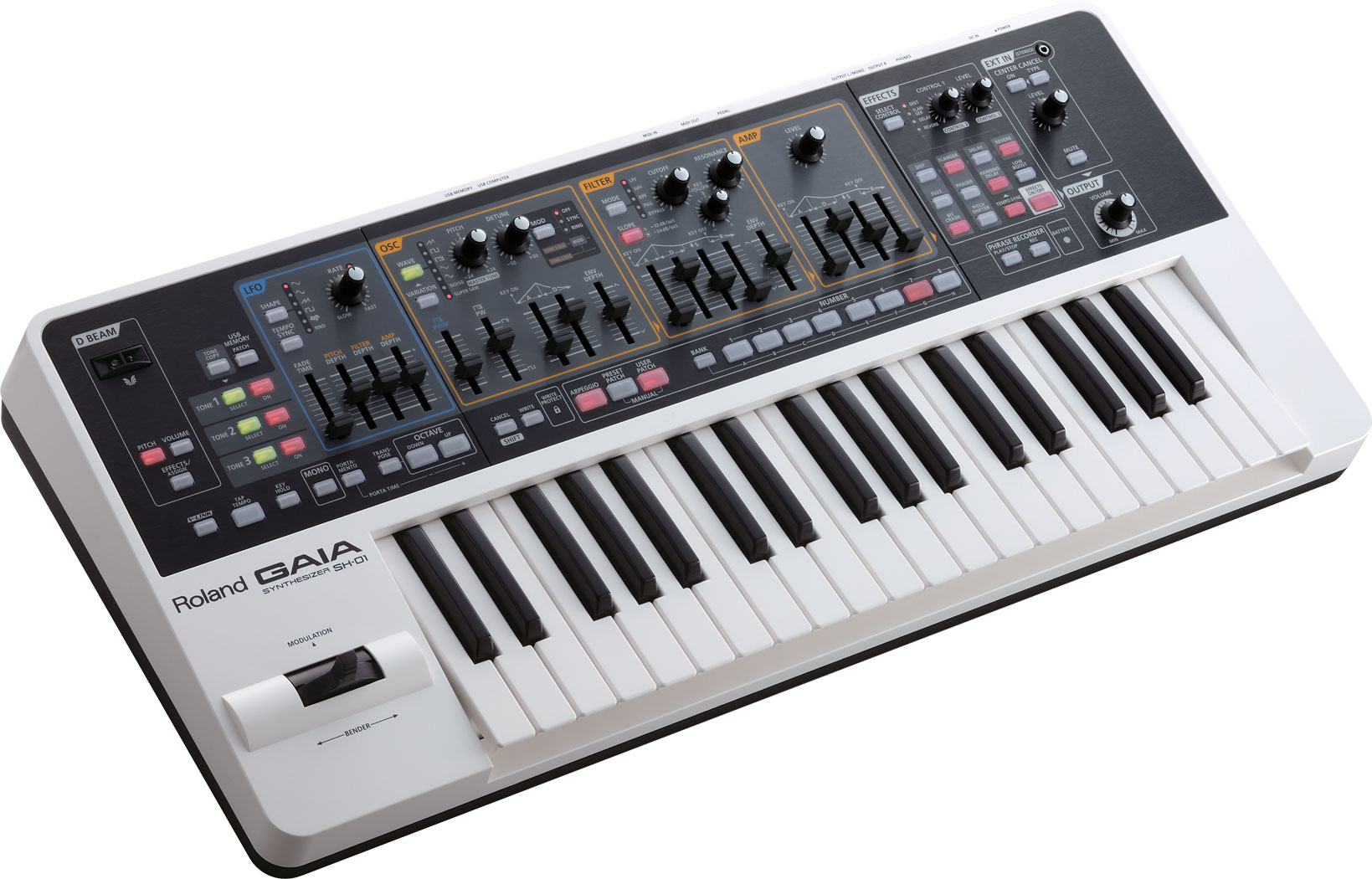 The new Roland GAIA SH-01 Synthesizer is a lightweight and compact keyboard. The Roland GAIA SH-01 features 37 full-size keys, maximum 64 voices Polyphony, three Virtual Analog (VA) engines, each with a dedicated oscillator, filter, amplifier, envelope and LFO, Effects; Distortion, Flanger, Delay, Reverb and Low Boost, D Beam, Arpeggiator and Phase Recorder.
The Roland GAIA-SH-01 is akin to having three synthesizers in one. The GAIA SH-01 enables player to instantly select multi-effects and layer up to five simultaneous effects for dozens of variations. The dedicated control knobs, sliders and invisible D Beam are user-friendly and the layout of the front panel assist beginners grasp synthesis with ease. Live performers would love the instant gratification of hands-on control during performance. The arpeggiator provides 64 preset patterns, while the Phrase Recorder allows for up to eight 'phrases'  (internal MIDI data) of one to eight bars in length to be recorded, edited, stored and played back. This is a useful performance tool as well as an excellent way to audition patches for a particular line or riff. The USB ports enable you to store your patches and phrases to a USB memory stick and the EXT input enables  you connect external audio sources such as an MP3-player and play along with your favourite songs.
The Roland GAIA SH-01 Synthesizer is great for live performance and practise. This portable powerhouse is a good choice for musicians on the go. Weighing merely 9 lbs. 5 oz and can runs on either AC adaptor or battery power, the Roland GAIA SH-01 can be heard and played anywhere. In conclusion, the GAIA SH-01 playability, powerful virtual analogue sound and value for money, make this retro-modern synthesizer a winner.

var _gaq = _gaq || []; _gaq.push(['_setAccount', 'UA-17740839-1']); _gaq.push(['_trackPageview']);
(function() { var ga = document.createElement('script'); ga.type = 'text/javascript'; ga.async = true; ga.src = ('https:' == document.location.protocol ? 'https://ssl' : 'http://www') + '.google-analytics.com/ga.js'; var s = document.getElementsByTagName('script')[0]; s.parentNode.insertBefore(ga, s); })();
---