Roland has announced a free update for owners of the Roland Fantom 6, 7, and 8 Synthesizers.
Fantom Version 2.5 adds classic organ sound and playability with Roland Virtual ToneWheel engine, plus extended DAW control with integrated support for Ableton Live music production software.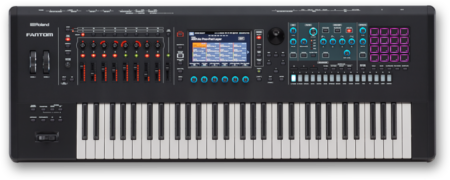 New Fantom  Virtual ToneWheel engine emulates the sound-generating process of a real tone wheel organ and includes several tone wheel types with adjustable percussion, key click, leakage, and more. There is also a rotary effect, with variable speed, brake control, and tube distortion characteristics. Fantom touchscreen, sliders, knobs, and keyboard action are automatically configured to provide hands-on sound control and playability.
Now, Fantom also features official integration with Ableton Live, expanding on the previously included support for Apple's Logic Pro X, GarageBand, and MainStage software platforms. Via Fantom high-resolution touchscreen, it's possible to view and launch clips in Live's Session view, access Live's mixer parameters, and trigger transport functions. And with Fantom knobs, sliders, and pads, users can operate Macro Controls, control mix levels, play Drum Rack, and more.
To download the Roland FANTOM 6, 7 and 8 Version 2.5 update, see the Downloads section of the Fantom section of Roland website.
---